05 Apr 2018 | By Sun International
Pack your bags! Discover the benefits of travel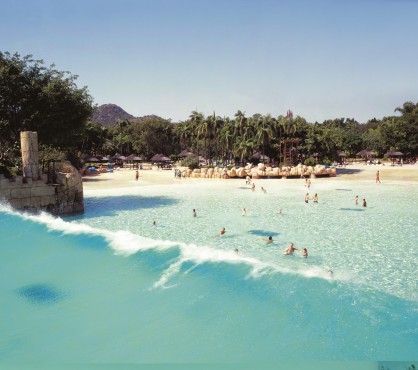 The benefits of travel are so many from expanding your horizons to getting to know new people. Everyone dreams of getting away from the rat race but when was the last time you set out on an adventure? Read on to discover the benefits of travel.
Travel is good for the soul
Remember when you were a child and how magical the world seemed? There was something new to discover and learn every day. Curiosity led to adventure and boldness made way for new discoveries. One of the benefits of travel is a broader perspective. As American novelist Henry Miller said: "One's destination is never a place, but a new way of seeing things." When was the last time you changed the way you saw things by trying something new?
Travel is good for the body
If you need a little less stress, a lot less burnout and a little more happiness, then you'll be intrigued to know that one of the benefits of travel is that it's physically good for your body and brain. Travel will give you the edge over insomnia and help you create a good sleeping pattern again. According to several studies, other benefits of travel are that it improves worker morale, the ability to concentrate and it increases productivity – incentives for your boss to sign off your leave form!
Travel is a great way to unwind and leave the stresses of deadlines, meetings and the constant barrage of emails and IMs. Find the perfect travel destination at one of Sun International's properties and enjoy an exciting change of scenery. What better way to melt away stress than by booking a pampering treatment at The Table Bay's Camelot Spa or Joburg's award-winning Africology Spa at The Maslow?
Another benefit of travel is the chance to try something completely new.  Sun City offers you the opportunity to try a variety of sports, adventures and family-friendly fun! Enjoy a round of golf on one of two world-class golf courses – the Gary Player golf course or the Lost City golf course. There are also many adventure sports available at Sun City from the pump track to the mountain bike trail or why not hire a tennis coach to improve your game on one of the 11 courts below the Cascades? Or combine fitness with your family holiday and visit the resort for one of these exciting sports events: The Citizen Trail Run, the Eleven Global Triathlon, the Dis-Chem swim or the Bestmed Cycle4Cansa Mountain Bike classic.
Travel is good for the mind
Ever think you're too old to learn something new? Think again. One of the best benefits of travel is that your mind is constantly being expanded by the new sights, sounds, smells and tastes. Challenge yourself a little and travel in South Africa to explore the best that our beautiful country has to offer. Enjoy the bustling nightlife and city lights of Pretoria at Time Square casino or take a scenic road trip down the Garden Route to the beautiful Hibiscus Coast and enjoy a luxurious stay at the Wild Coast Sun. Looking for round-the-clock entertainment in Cape Town? Get to GrandWest casino for a Las Vegas-style holiday!
Travel for the thrill of it
"Every hundred feet, the world changes." – Roberto Bolaño.
Travel means to be in a state of change and of discovery. By immersing yourself in travel, you open yourself up to new experiences so why not add a few thrills to the mix? Getting the chance to explore your limits is yet another one of the benefits of travel. At Sun International, we pride ourselves on offering our guests luxurious comfort and top-class service, but our resorts and hotels also offer thrills and adventure for everyone!
Our flagship resort, Sun City, has a range of adventures for every kind of visitor, whether you prefer leisure experiences or adrenaline-filled encounters. Book a safari or wildlife tour with Mankwe Gametrackers Outdoor Adventure Centre or explore the resort on a Segway safari. Get your hair blown back, literally, by the world's fastest zip slide of try out the Chimp & Zee rope course at the Valley of Waves. Are you an adrenaline junkie? We've got hovercrafts and drift trikes, quad bikes and Airsoft Call of Duty tactical shooting.
Travel to create lasting memories
Whether you're travelling with friends or bonding as a family, there's plenty of Instagram-worthy moments to capture at Sun International. We suggest an incredible hot air balloon safari over the Pilanesberg Game Reserve or whooshing down water slides at the Wild Waves Water Park at Wild Coast Sun. Or spend an afternoon at GrandWest's Olympic-sized skating rink, the only indoor ice rink in the Western Cape!
Choose a destination from one of our incredible resorts and hotels and fill your mind with new experiences as you travel in South Africa. Pack your bags and discover the benefits of travel for yourself.