11 Mar 2015 | By Sun International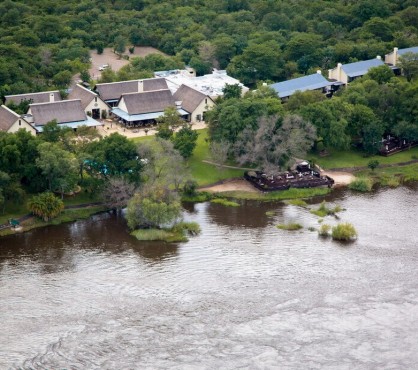 Sun International Zambia Welcomes New General Manager
Bringing a wealth of hands-on experience to the Sun International Zambia table, Emmanuelle Moneger has taken the reins as General Manager. As part of her responsibilities, Emmanuelle will oversee the running of the prestigious Royal Livingstone Hotel and the newly refurbished Zambezi Sun.
We managed to snatch a few minutes of this busy GM's time, to find out more about her appointment.
Q: What's the best part of being GM of the Royal Livingstone and Zambezi Sun? 
A: I'm very pleased and proud to represent and oversee these two flagship properties in Zambia.
Q: You earned a Master's Degree in Hotel Management and Sport and an HR and law degree from the Perpignan University in the South of France and have since travelled the globe. What inspired you to leave France?
A: I left France first during my studies by taking internships overseas, with the aim of exposing myself to new cultures and tourism trends. My first trip was in Kenya, which is where I fell in love with the African continent and its people.
During the course of my studies, I had the opportunity to take up further internship and foreign study posts, and the choice of location was easy – Africa, of course.

Q: And does your French heritage enrich your work? 
A: Yes, I believe so. My French Heritage is part of who I am so it probably has a hopefully positive influence on the way I do things. There are certain standards that have to be met.
Q: Not exactly your typical day job, your work has taken you to exotic destinations such as Tanzania, Zanzibar and Central India. Was working in Zambia always part of your master plan? 
A: I've never really had any master plans but I have worked very hard to embrace every opportunity that came my way.  Looking at each one as a new learning experience and challenge, I realise I'm not like most people – I love change! Working in Zambia is a wonderful new challenge for me.
Q: As the GM of the 5-star Royal Livingstone and the family-friendly Zambezi Sun, how do you manage your hectic schedule? 
A: I prioritise the needs of our guests and trade partners every day, making sure that always come first. Every day is different but I rely on my organised mind to ensure I've achieved most of my daily goals.
Q: Will you be introducing some of your French flair to the menus? 
A: We already have a French executive Chef for the resort, Alexandre Coupy. He has been with Sun International for 7 years so there's already a distinctive French flair in our menus! We are always on the lookout for new ideas and it's important that we keep up to date with international trends.
What is key for me is to consistently serve our guests the most delicious food they can have in Zambia. Our food takes its inspirations from many cultures – a true melting pot of flavours.
Q: Speaking of all things French and delicious, can you tell us more about the Good France event at the Royal Livingstone? 
A: Good France or Gout de France is a worldwide event started by a Michelin Star Chef, Alain Ducasse and the French minister of culture. The aim is to showcase French gastronomy around the world through a one night a year event, 19 March. Chefs from all over the world will be celebrating French food through their own menus and creations. We can't wait for our special evening at the Royal Livingstone.
Q: As a globe-trotting traveller with several stamps in your passport, what's your top travelling tip for tourists coming to Zambia? 
A: Just enjoy every single experience coming your way. Zambia will touch your heart in many ways, whether it's through the meals you savour, the animals you see or the people you meet.