06 Aug 2014 | By Sun International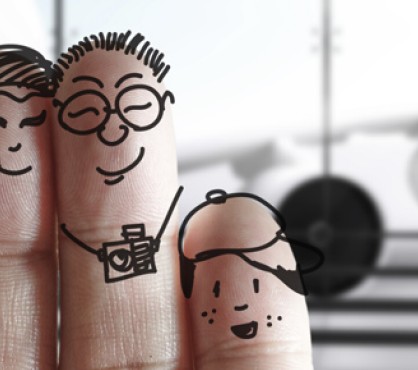 Real, Honest, Useful Tips for Travelling with Kids
Travelling with children – whether crossing continents or road tripping to the coast – can be daunting. The challenges, which can amount to any number of worst case scenarios, often leave parents debating whether travelling with children is worth the effort. The truth is, a bit of forethought may reduce parental stress when travelling, and the rewards, such as experiencing new places and making memories together as a family, can greatly outweigh the challenges.
Here are some useful tips:
Planning your holiday
Book ahead. Choose appropriate accommodation, such as self-catering apartments with two or more bedrooms, like Sun International's Acacia Place at the Carousel Casino. Or opt for a family-friendly resort with great kids' holiday activities, like the Wild Coast Sun.
Plan for a slower travel pace. If you want to see more than one place, be realistic about what you can achieve with the kids in tow. Alternatively, book a destination that offers a great range of easily accessible activities and experiences to keep everyone in the family smiling, like the Table Bay Hotel, which is perfectly positioned for quick access to some of Cape Town's best child-friendly highlights. Use the same strategy for airports, sightseeing, and transfers. Toddlers love to explore and don't care for the time pressures of travel, so factor the stalling, toilet stops and tantrums into your timeframe.
Get your paperwork in order. If you're travelling abroad, make sure your children's passports are up to date (see our article on SA's new immigration regulations). In many countries, South Africa included, you'll need to present extra documentation for your child on entry and departure. Always carry a copy of your child's birth certificate, or if required, the original. Also, if both biological parents are not travelling with the child, you may need a letter from the other parent stating that you have permission to take your child out of the country. If you're going to need visas for your destination, don't be surprised if they are a requirement for children as well as adults.
Parent tip: To avoid dealing with teenage sulks, involve your older children in your travel plans. Ask them to do some research on your destination and provide input on what they'd like to experience when there.
Packing essentials
Besides required vaccinations, make sure you pack a small first aid kit for minor travel mishaps: plasters, antihistamines and painkilling syrup can save stress later on. If your child takes prescription medication, make sure you have more than enough for the trip and that it's within easy reach. Similarly, if anyone in your family has serious allergies, you might want them to travel with a card that specifies what they're allergic to and how serious the condition is.
If you're going to a sunny place, make absolutely certain that you pack sun-safe hats, natural fibre clothing, and sunscreen for your children – SPF 30 or higher. Whether you're travelling to Zambia or Durban, antibacterial wipes and hand sanitiser are handbag essentials. If you have to sterilise things regularly, like dummies or teething toys, consider packing a portable steam steriliser.
Check the latest restrictions on hand luggage before travelling. The more stringent regulations relate to carrying liquids, gels and creams, including baby foods, drinks and nappy cream. The standard instructions are not to carry over 100ml of any single item, although exceptions are usually made for essential medicines or supplies for children under two.
Parent tip: A pram or buggy can be useful on holiday even if your child is walking, serving as a place for them to rest during day trips, a makeshift bed when out in restaurants and something to help with carrying the bags. Alternatively, check with your family-friendly accommodation beforehand if they have strollers for hire.
At the airport
Arrive early. Keep your hands free. You'll be asked to present documents at every turn – passports, tickets, boarding passes, and birth certificates should be kept in a safe, easy-to-reach place such as a travel pouch. Small backpacks work best as carry-on luggage, and if your child is young enough, a baby carrier is invaluable.
The most important thing you can do to ease your trip through security is to have everything organised in advance. Avoid carrying loose items or hanging toys from the stroller, as getting through security will take forever, and you will risk leaving something behind.
Parent tip: Explain to your child exactly what will happen at the security checkpoint. It can be scary for them to put their shoes and special toy on the conveyor belt.
On the plane
Swallowing during the plane's takeoff and landing helps keep ears clear and comfortable. Try to nurse or bottle-feed your baby at both times or, for an older child, have a drink on hand. The low humidity of cabin air can cause mild dehydration as well as dry and irritated nostrils, so it's important to get kids to drink regularly. If anyone gets a streaming nose (also a factor of low humidity), wet the insides of their nostrils with a finger dipped in water. You can also keep a small bottle of saline solution in your carry-on for this reason.
Handheld puzzles, colouring books, stickers, word searches and even tiny packs of plasticine will pass some time on a long flight. Bring your child's favorite toys as well as a few surprises for the really difficult moments. Also, download some child-friendly apps and games onto your tablet.
Parent tip: Manage the toys. Only give your child one toy at a time, and when they're showing signs of boredom, swap it out with another.
On holiday
Giving toddlers their own camera encourages them to observe their surroundings and focus on what interests them. You might also be surprised at the results from their knee-high perspective.
Encourage your older kids to keep a travel journal, drawing and listing things they've seen and interesting foods they've tried. Collecting postcards from places you visit and asking them to write themselves a message on the back means they can reach adulthood with a library of memories all of their own.
Have no expectations. Kids might not have the wonderful time that you expected them to, or they might get sick. A normally good-natured child might get tired and cranky. The more that you're able to take things in stride, the more everyone in your family will enjoy themselves.
Parent tip: It's your holiday too. Make the most of child-friendly activities and holiday programmes to squeeze in some relaxation time for yourself.
Tell us: what's the best advice anyone has ever given you, on travelling with kids?