10 Oct 2014 | By Sun International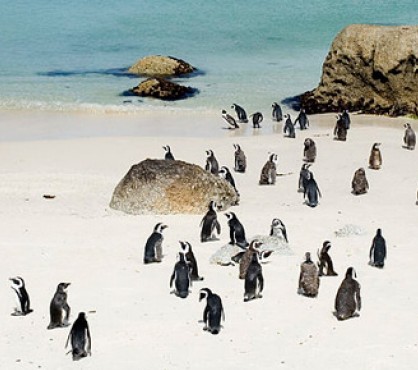 Penguins at Play in Simon's Town
Escape with the family to Cape Town, and enjoy the delights of the Mother City and beyond! It's not a one dimensional destination though, with glorious beaches dotting the coastline and the Winelands unfurling like a vine inland to the city itself, Cape Town is just ripe for exploring!
Cape Town's ever-expanding commercial and tourism-focused ventures aren't limited to the city. The Western Cape has become a haven for residents and visitors, offering a multitude of things to do in Cape Town and beyond.
Approximately an hour's drive away from the Table Bay Hotel and GrandWest Casino, you'll find one of the Western Cape's most loved places, Simon's Town. Sheltered from the strong North-West winter winds, Simon's Town has the ambience of a quiet town but the buzz of a city during the busy season. This sheltered bay is perfect for visiting during the winter months, as its residents enjoy sunshine-filled mornings and temperate afternoons.
A visit to Simon's Town would not be complete without stopping in to visit the penguins on Boulder's Beach. This little bay on the beach is home to a breeding colony of more than 2000 endangered African Penguins.
Just as the families of penguins relax and play on the sands of Boulder's Beach so too can you and your family. The beach forms part of the Table Mountain National Park and a small entrance fee must be paid before entering the beach. Boulder's Beach is also a safe swimming and suntanning spot so spend a day on the sands enjoying a family picnic and a dip in the ocean.
And, if you're also fond of watching whales, Simon's Town is a famed whale watching spot between the months of June and November. Whale watching opportunities abound across the Western Cape, as the Southern Right Whales migrate from Antarctica to warmer climates, where they mate, calve and rear their young. You can look forward to fantastic displays from these giants of the ocean as they splash around in the waters of the bay.