16 Oct 2014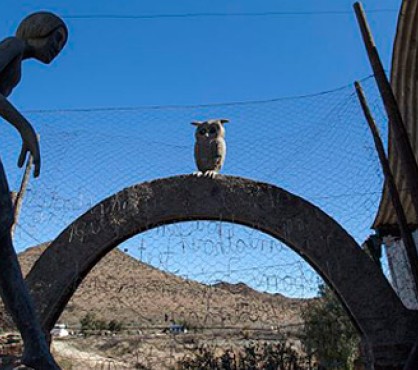 While meandering through the Eastern Cape, you'll find an eccentric outdoor art exhibition and a fascinating journey into an artist's mind at The Owl House in the village of Nieu Bethesda. This quaint little town is set at the foot of the Sneeuberg Mountains, just 50 kilometres away from Graaff-Reinet.
If you're in the mood for a bit of a road trip, set out from the Fish River Sun on the Sunshine Coast or the The Boardwalk in Port Elizabeth, to take in the sights and sounds of the Eastern Cape's diverse landscape.
The Owl House was created by artist Helen Martins, who devoted the latter part of her life to creating an otherworldly ambience around the building. Helen inherited the home after her parents' deaths and set about constructing a range of quirky and sometimes questionable art pieces that expressed her innermost thoughts.
An enchanting maze of concrete sculptures, ground glass creations and lanterns envelop the house, which has also been intricately decorated, using mirrors, wirework and a multitude of colours. A sign was hung in the garden of the Owl House that reads "this is my world" and, through her tireless work, Helen created exactly that. Often left feeling misunderstood by the outside world, and the subject of many a neighbourhood tale, Helen withdrew into her own world and kept to herself, as she continued to create and build this mesmerising collection of art.
During the years that Helen was actively working on the Owl House, she collaborated with or was assisted by a number of fellow artists, most famously by Koos Malgas. Often working quietly alongside others, Helen created the ultimate fantasy garden and delicately decorated the interior of the Owl House too.
Visitors to this daringly unconventional tourist attraction are often left speechless, as Helen's works portray a wide range of emotions, including joy, curiosity and despair. Helen took her own life in 1978, leaving instructions that the home was to be kept as a museum. Now managed by the Owl House Foundation and proclaimed a provisional national monument, visitors to this Eastern Cape tourist attraction can drop in and explore South Africa's finest, permanent outdoor art installation.