Entertainment | 03 Jul 2014 | By Sun International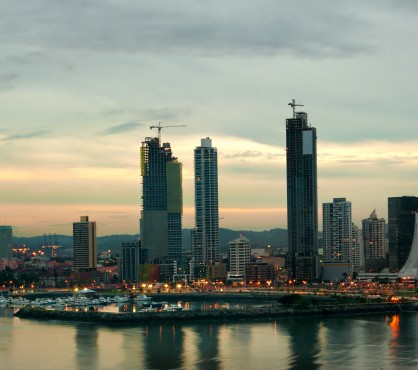 It's Full Steam Ahead in Latin America
Ocean Club Casino, Panama City
After more than a year of hard work on many fronts, Sun International has received its gaming licence and met all the final conditions for a casino in Panama City. How exciting!
Situated on the second level of the new Trump Ocean Club Building in Panama City, Kris Gunderson (development manager for Sun International) enthuses that with 66 floors, this is the tallest building in the city. He describes a sail-shaped building that includes a mix of offices, luxury apartments, residences and studios, as well as a 250-room five star Trump Hotel. Access to the casino will be straight off the main entrance (Porte cochere) of the building, with dedicated elevator access up onto the first floor.
The main casino occupies the first floor of the building and takes a total of 5400m₂. In addition to the first floor, Sun International has also bought two more floors – 65 and 66. The top two floors! On the 65th floor will be a mix of apartments that will be utilised as suites for casino VIP patrons and floor 66 will be a fully-fledged Prive with beautiful 360degree panoramic views of the city.
Says Gundersen: "The Prive on floor 66 will be the highest in the world with exclusive food and beverage offerings. It will have an outside terrace, splash pool and a sundeck. It will also put the Sun International VIP gaming offering on the world stage."
"The synergies offered between Trump and Sun International in terms of its offering will be an unparalled entertainment and gaming destination in Latin America, if not worldwide.
The opening is set for September 2014.
The facts on Ocean Club Casino, Panama City
600 slots
32 tables (including Prive tables)
Sports/entertainment bar with sports betting facilities with stage (144 seater total, 26 seats on outside terrace)
Casino floor bar with34 seats, also serving patrons on casino floor
188 dedicated parking bays in the Trump underground garage
140-seater steak house restaurant with an open kitchen and easy access off main casino floor
Suites floor on level 65 with one large presidential suite (3 bedrooms) one suite with 3 bedrooms and 2 interleading private bedrooms and four 2-bedroom mini-suites.
Nao Casino, Cartegena, Columbia
Columbia is a country rich with opportunity. Its economy has grown incredibly well and there have been major improvements in its business and security environment. In recognising Columbia's potential, Sun International has leased casino space in a great development in Cartagena, a picturesque tourist town situated on the Caribbean Coast.
Gundersen explains that the Nao Casino is located on the first floor of the new Nao shopping centre currently under construction. It has a pedestrian entrance from both the San Martin town side and the beachfront road at the front of the property, into a private lobby which leads up to the first floor by escalator.
He says that a games arcade with X-box/Wii-type games will be situated on the second floor, above the casino. The back of house and support services will also be located here.
The centre includes 80 shops, fast food outlets and 5 theatres, a 400-bay parking garage, and a 284-room five star Intercontinental hotel.
The casino will be 2500m₂ and the operational model of this unit is envisaged as a lean prototype with new innovative efficiencies.
The facts on Nao Casino, Columbia
300 slots
16 tables
Prive comprising of 26 slots and 6 tables
130 seat sports/entertainment bar with stage, 36 seats on outside terrace
Games arcade above casino level​