Travel | 31 Aug 2015 | By Sun International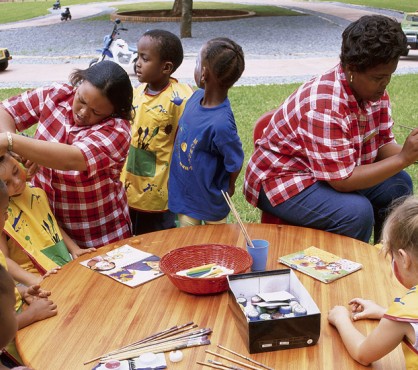 Take a Break! Here Are Our Hotels That Offer Childcare
Taking a family holiday with two or three kids under the age of 6 means you might need a break from your holiday, which is why you should go to one of our hotels that offer childcare.
Once the car has been packed with beach balls, nappies, snacks, changes of clothing, and irritable toddlers, it's no wonder your nerves are frayed. What you need is time alone as a couple to rekindle the flame and rediscover the bond between you. With Sun International, you are guaranteed to enjoy a holiday with the whole family thanks to our hotels that offer childcare. You can be assured of peace of mind while your children are in the care of our qualified, professional child-minders who will take every precaution to ensure your child's safety.
North West Province hotels that offer child care
Your children can enjoy a range of entertainment options at Sun City while you and your spouse take some much-needed time off as parents. At Kamp Kwena, children have the chance to be involved in fun and educational activity programmes throughout the year. The fully supervised Kwena Crèche and Thula Baba babysitting services means you can enjoy a leisurely candle-lit dinner while being assured of the fact your bundle of joy is in caring hands. Thula Baba baby services will also send a babysitter to your room to ensure your little one is not disturbed during nap time. Need a date night at The Palm Terrace? There is a supervised area for little ones to play while you have a few uninterrupted moments to enjoy a meal together.
The carnival themed Carousel in North West Province promises fun for the whole family. We will keep kiddies entertained while you take time off to indulge in an afternoon of pampering at Shangilia Spa or an exciting game drive. Jolly Tots crèche will ensure that your little ones, from ages 3 to 13 years, will be safely cared for under the supervision of trained staff.
Eastern Cape hotels that offer child care
Looking to enjoy a family holiday in a luxurious hotel in Port Elizabeth? Mom and dad can spend time walking hand-in-hand down the beach while their little ones are being taken care of at the Boardwalk. Kid's Corner will take care of children aged 6 months to 13 years while a Kids Fun Pack will give teens a fantastic package deal on movies, meals and games. There are also gaming, adventure golf and even go-karting options available for teens. Check out the options available here.
Thinking of taking a family holiday during the school holidays in the Eastern Cape? The Fish River Sun has a number of great attractions for you to explore as well as the added benefit of providing child care. Kamp Kwena will keep kiddies between the ages of 3 and 12 years entertained with a complimentary entertainment and activity programme during the school holidays and over weekends. This leaves you free to try something new, so why not do something romantic and take your partner on a horse ride along the beach or enjoy a beer tasting and lunch at The Little Brewery on the River?
The Wild Coast offers unrivalled beauty, with its rugged coastline and host of activities to explore in the area. If you and your partner choose to take a day to explore all that this scenic area has to offer, The Wild Coast Sun has a child minding facility to cater to your family's needs. With supervised care on weekends and school holidays, you can steal away for a day on the beach or even a romantic dinner designed to rekindle the spark between you while your kiddies are having fun at Squawkers Cove.
Gauteng hotels that offer child care
If you are heading to Johannesburg for a family stay in the City of Gold, Carnival City is bursting with family-friendly options. If your children are aged between 4 months and 12 years, visit KidZone Crèche where you will be assured of a safe, fun and secure environment for your little ones. You can take in a massage at Precious Rubies Spa or dinner at Matsuya without a worry.
Kwa-Zulu Natal hotels that offer child care
Durban in KwaZulu-Natal is home to the Golden Mile, Moses Mabhida Stadium, rolling green hills of sugarcane, and sea, sand and sunshine. Get out and explore Durban for the day, dig your toes into beach sand and sip on a cocktail before finishing off the day with a night of dancing at Krakatoa Show Bar. And best of all? Your children will be cared for by qualified childcare personnel at Sibaya's children's crèche while you take a well-deserved break.
Northern Cape hotels that offer child care: Flamingo Casino
Should your family be on holiday in the Northern Cape, Flamingo Casino in Kimberley is the perfect destination for the duration of your stay as this is one of the few hotels offering child care to guests in the area. Take some time to enjoy a round of golf or indulge in your favourite treatment at The Flamingo Spa – you can rest and unwind while Flambino's Crèche and Kids' Zone will supervise your children aged 2 to 17 years with a variety of fun activities, including interactive and arcade simulation games.
Western Cape hotels that offer child care
Looking forward to enjoying a family holiday in the Western Cape? Look no further than Golden Valley where you can slow down the pace and unwind. At Golden Valley in Worchester, there are plenty of leisurely activities you can enjoy. From golfing or a river cruise, to exploring local museums and olive tastings, you and your partner will have plenty of opportunity to rekindle romance, rediscover the person you fell in love with and reconnect. While you're enjoying a little bit of bliss, Harry's Corner at Golden Valley will take care of your kids aged 2 to 17, with supervised children's entertainment as well as holiday programmes available.
GrandWest offers a superb array of shows and live concerts so why not book an evening of entertainment and enjoy a great date night out together? Worried about your children? No need. Take your kids to Kids' Corner Crèche where children up to the age of 10 will be supervised in a safe and fun environment. Enjoy a meal before the show and simply relax in the knowledge that your little ones are in safe hands. The Ice Station is a great way to enjoy some fun time together – take the whole family ice skating and take advantage of the mini supervised ice rink for children under 5.
If you're planning a family holiday over the December period in Cape Town, The Table Bay Hotel is offering childcare for guests with the Oscar's Kids Club Festive Season programme. With each day jam packed with fun and adventures, kiddies will be treated to an entertaining and informative programme for the duration of your stay. From story-telling to crafts, baking to playing outdoors, kiddies will even have the chance to enjoy drumming and drama classes. Lunch is included at 13h00 daily, which means parents can enjoy the full array of activities on offer at The Table Bay Hotel. Enjoy a day spent whale watching or discover Cape Town's landmarks, followed by a leisurely lunch at one of our restaurants. Do you have the next Ainsley Harris or budding Gordon Ramsay in your family? If you want to nurture the cooking talents of your little ones, The Table Bay Hotel offers monthly Mini Chef workshops for children, working alongside Executive Chef Jocelyn Myers-Adams for two hours. Kiddies get to learn the tricks of the trade while parents can kick back and relax with a two-course meal and glass of wine at Camissa Brasserie. 
Polokwane hotels that offer child care
When was the last time you indulged in a morning at the spa? If you are taking a family holiday in Polokwane, Meropa will take the stresses of parenting off your shoulders for a while. Take some time out at Mangwanani Spa and enjoy time together as a couple while fitting in a little well-deserved relaxation time. You could also take in dinner and a show in the evening. Best of all, the rug rats will be having a whale of time at Twice the Fun Crèche where they will be under supervised care and enjoy a variety of entertainment. You can enjoy a special night out with your partner without a second thought or worry. We will take care of your kiddies and give you a night off!
Wherever you choose to spend your family holiday, there are Sun International hotels offering child care for guests at your destination. Make memories to last a lifetime!