Travel | 15 Sep 2022 | By Sun International
Mosey on down the magical Mtamvuna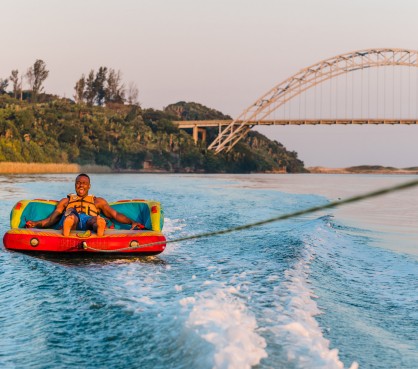 Explore the Mtamvuma River near Wild Coast Sun on a high-speed tube | Photo by Zuzi Seoka / Sun International
There are few better ways to savour Wild Coast Sun's gorgeous surroundings than on a river cruise
The iconic Wild Coast Sun has been thrilling guests for over 40 years with its heady mix of gaming, golf, array of leisure activities and endless summer vibes.
Not only does this gem in the Sun International crown boast the distinction of being the company's only beach resort, but it also lies on the border between Eastern Cape and KwaZulu-Natal in a melting pot of Nguni culture.
And then there's the stunning location, lapped by the welcoming Indian Ocean and the balmy waters of the Mtamvuna River. You'll have to search long and hard to find a sexier setting!
The Riverside Aqua Sports Beach Bar on the banks of the Mtamvuna is a hotbed of activity all year round, offering full-blooded action on the water in the form of waterskiing, canoeing, kayaking, sit down and stand-up paddling, and other watersports.
If you're inclined towards something more sedate, try fishing or simply relax on one of the loungers, cocktail in hand. You'll also be getting a taste of the resort's heritage, as the Riverside predates the founding of the Wild Coast Sun. These are sacred grounds for anyone with a love for this fabled resort.
You haven't really experienced the Riverside until you've topped off a day of water-based thrills with a boat cruise that gently winds its way up the Mtamvuna, all the way to the breathtakingly beautiful Umtamvuna Nature Reserve.
The reserve is a treasure trove of rare and endemic trees and plant species in a diversity of habitats. It is known for its spectacular wild flower displays and is home to the endangered Cape Vulture.
Soak up the verdant luxury around you while enjoying a cool breeze caressing your face and a cocktail or other beverage while you take in the glorious sunset. The cruise, which lasts between 45 minutes and an hour, is a great way to destress and immerse yourself in the stunning natural beauty of the Wild Coast Sun.
Cruises carrying a maximum of 30 people depart at 12pm, 2.30pm, and 5pm daily. Tickets go for R150 per person, while under-12s pay R90 each. You can also opt for a private cruise along with 10 of your loved ones for a total of R1 200. Make it a family affair!
Book your cruise at the Riverside Aqua Sports Beach Bar on 083 662 9096 or the resort's front desk.
Tip: Come through early to buy some drinks to take on the cruise. Cruising is thirsty work!