06 Oct 2014 | By Sun International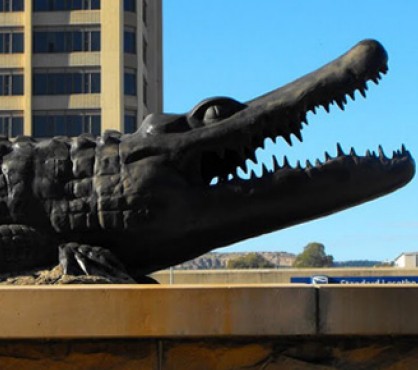 Explore Maseru, Lesotho's Capital
With Lesotho's starkly beautiful views, nail-biting mountain passes and endless hiking trails, you're in for an adventure when you visit the "Kingdom in the Sky". Besides being one of Africa's last truly rural destinations, it's one of the friendliest countries in the world.
But while there are many natural tourist attractions in Lesotho, its capital city Maseru is often overlooked as a destination in its own right. Sure, it's a convenient stopover point at which to recharge and stock up before you head off to see the 'real' Lesotho, but Maseru will also give you a snapshot introduction to a remarkable African culture that manages to straddle the divide between historical integrity and modern evolution.
So before you rush off in search of craggy landscapes, red sandstone cliffs, and endless horizons, give yourself a day or two to absorb Maseru's unique cultural flavour. Think quirky hat-shaped buildings sharing space with crumbling colonial churches, and interspersed with a smattering of excellent restaurants and eateries, as well as great shopping destinations.
If you're wondering where to stay in Lesotho, there's outstanding accommodation in Maseru at the Lesotho Sun. But don't dawdle too long in cool comfort - there are plenty of things to do in Maseru. Here are some highlights:
Visit the Lesotho War Memorial
Among the many tourist attractions in Lesotho, the laid back city of Maseru is home to the War Memorial, which commemorates the 951 soldiers from Basutoland killed in World War II, most of whom served in the African Pioneer Corps.
The 'crocodile monument' was erected in Makoayane Square in the centre of Maseru in 1963, and depicts a curved screen wall mounted by a cast bronze crocodile, Lesotho's national emblem.
Take in some classic – and quirky – architecture
Maseru has something of a mix-and-match architectural style, with thatched huts neighbouring concrete office blocks and proud old colonial buildings. Be sure to explore the imposing structure of the Catholic Cathedral of Our Lady of Victory. Don't leave without a visit to the Papal Pavilion – a memento of the Pope's visit to this city in 1988.
For a modern take on traditional Basotho aesthetics, the Mokorotlo near central Maseru is a monumental traditional hut that has been redesigned in a modern style. The revamped hut houses a museum where you can learn more about the nation's history, culture and traditions.
Visit a mountain stronghold
Just outside of Maseru, Thaba Bosiu is considered the country's most important historical site, and one of the most popular tourist attractions in Lesotho. Once the mountain stronghold of King
Mashoueshoue in the 18th century, the "Mountain at Night" survived regular attacks for almost 40 years without ever falling to invaders. The Qilaone Pinnacle here is conical in shape and the inspiration behind the popular Basotho hat that is worn all over the country.
Take a little Lesotho home with you
If you want to see some of the world's finest tapestries, then a visit to the Helang Basali Craft Centre in the St Agnes Mission in Teyateyaneng is a must. Just 30km from Maseru, Teyateyaneng is popular for the excellent traditional art and craft industries that have been developed there by the government.
Tip: Take some cash with you, Basotho crafts are difficult to resist.
Other Maseru must-do activities
If you're staying at the popular Maseru Sun, be sure to hang around for Friday night sundowners with the local around the pool. And if you're in the mood for some outdoorsy fun, canoeing down the Caledon River is a great way to explore the area's flora and fauna, while a pony ride will give you a taste of typical Basotho life.