11 Dec 2014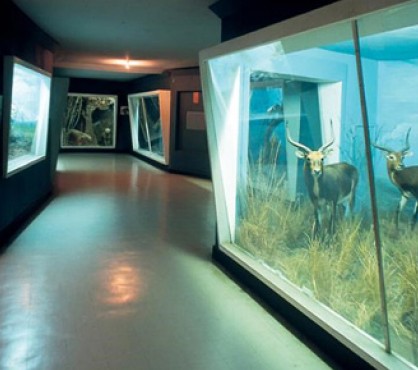 With its sharp eyes fixed on the river rapids, the Fish Eagle swoops down from its perch in a tree alongside the Zambezi River. Skillfully catching its lunch in clawed talons, the Fish Eagle flies back to the tree to feast on its prey. And that's how Zambia's national bird feeds itself, but what else do we know about other important symbols of the country?
A family holiday at the Zambezi Sun isn't your normal hotel-room-with-nice-view getaway. With the roar of the majestic Victoria Falls as the soundtrack to your vacation, it stirs within you the need to explore and set off on an epic adventure.
One of the most interesting things to do in Livingstone is take a tour of the Livingstone Museum. Of course, the town of Livingstone was named after intrepid explorer, Dr David Livingstone who devoted his life to uncovering some of the wonders of the African continent.
Livingstone Museum
You'll recognise it by the large memorial devoted to Dr David Livingstone just outside the museum entrance. And, as you enter the building, remember that you're about to explore the most comprehensive archive of David Livingstone's discoveries. Established in 1934 and fully renovated in 2003, the Livingstone Museum stands proud as Zambia's oldest museum. As a symbol of Zambian life, culture and history, this museum encapsulates the spirit of a country.
As he journeyed through Africa, Dr Livingstone didn't just collect items of interest. He was a keen writer, regularly stopping on his trips to capture a particular moment and a well-versed orator, a skill especially useful in his missionary work.
Dr Livingstone's Possessions, I Presume?
Dr Livingstone's personal diary can be read at the Livingstone Museum. Delicately preserved behind special glass panels, Dr Livingstone's diary beautifully illustrates life in the wilderness, but also his commitment to abolishing slavery. You can also take a peek at Dr Livingstone's clothing, weapons and other memorabilia.
The Zambian Story
But the story of Zambia is far more than just a retelling of Dr Livingstone's explorations. With extensive exhibits that showcase customary living, traditional medicines and more, the Livingstone Museum also preserves some an important part of Zambian history – the time before the country became a colony.
You'll find a collection of Stone and Iron Age artefacts that have been well cared for and lovingly preserved on display. In the Natural History section, you'll find a number of stuffed animals but also the complete skeleton of a young adult, found alongside a burnished pot, and excavated during an archaeological dig that was situated just under 200 kilometres away from Livingstone.
Guided Tours at the Livingstone Museum
It's no surprise really, that Zambia's largest museum boasts such a burgeoning archive of historical items and interesting memorabilia. The best way to see it all, of course, is by taking a guided tour. Book your space on a Livingstone Museum guided tour either through your hotel's concierge, or enquire with your tour operator.
Tip: A guided tour through the Livingstone Museum usually takes about 2 hours, but it'll be an experience you remember forever.