Entertainment | 15 Jan 2015 | By Sun International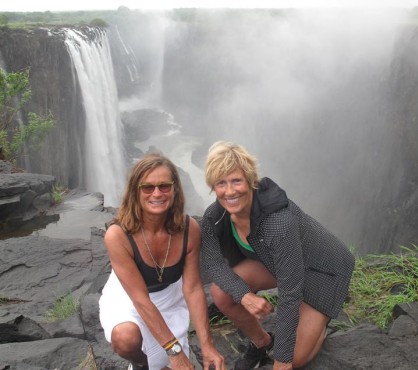 Diana Nyad Spotted at The Royal Livingstone Hotel
Diana Nyad first found fame in 1975 when she swam around the island of Manhattan. Little did she know she would have to wait decades and endure 4 failed attempts before she would achieve her ultimate dream of swimming from Havana to Key West. In 2013 Nyad proved her adage "never, ever give up" when she became the first person to swim from Cuba to Florida without the assistance of a shark cage.
Not content with simply being a record-breaking swimmer, Nyad is also an author, journalist and motivational speaker. At the end of 2014 she celebrated New Year's Eve at the Royal Livingstone Hotel with her best friend Bonnie Stoll. Touring throughout Africa, Nyad and Stoll also visited Botswana and Rwanda.
On her Facebook page the 65-year-old former Dancing with the Stars participant had this to say about her trip:
"Happy New Year from AFRICA! From here at Victoria Falls in Zambia, one of the seven Natural Wonders of the World, to the outrageous sunsets of Botswana, my buddy Bonnie and I have been on a magic carpet ride of Nature in its finest form, animals in their full glory of freedom, and inspiration for our own expansive thinking."
To find out more about Diana Nyad, follow her on Facebook, Twitter and Instagram.