01 Aug 2013 | By Sun International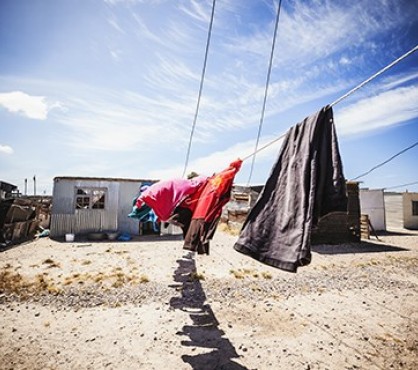 Getting to Know Cape Town's Townships
Cape Town is about so much more than its towering table-shaped mountain, impressive wine estates, picturesque villages and charming V&A Waterfront . There is another side to Cape Town that visitors are immediately confronted with upon arrival but often do no more than drive by in uncomfortable dismay.
I'm talking about Cape Town's Townships. Known as shanty towns in other parts of the world, Townships are a part of South Africa that many travellers prefer to pretend don't exist but which others feel compelled to visit. For the many travellers who do embark on a township visit they will in all probability find the experience to be the most memorable and profound of their trip because the outer, dilapidated appearance belies a vibrant world of culture, history and fortitude.
Only the people who enter its caverns hear the stories of legendary black leaders who were supressed under apartheid, but who continued to fight against unjust oppression. Despite the poverty and violence, townships were the epicentre of politics, jazz and blues, and this still holds true today.
Cape Town's townships and informal settlements still retain a strong sense of culture and a Township Tour is sure to leave you with a better understanding of its unique culture which is distinct from that found in other parts of Cape Town. Restaurants, Shebeen's (taverns) and pavement food stalls offer ideal opportunities to savour the flavour of township life and you will enjoy the lively community arts projects where you will be able to buy souvenirs directly from the local craftsmen.
The tour takes you from District Six, to Langa, Khayalitsha and Gugulethu. You will have the chance to visit local schools, charismatic churches, a traditional healer and a Shebeen. Along the way you will meet people who will leave you with a new understanding of 'Ubuntu' as they generously share their culture with you.
Perhaps the best part of the tour is a visit to Mzoli'sin Gugulethu. This is the restaurant that put Shisa Nyama on the map. Shisa Nyama is Zulu slang for "Buy and Braai", has been practiced in the African culture for many years. What started off as a way for township butcheries to increase sales has grown in popularity as a venue where people can relax, socialise and dance. Mzoli's has their own house music and you can feel the music reverberating through your body - you really cannot stop yourself from moving.
Mzoli is the place where locals hangout with tourists, students and politicians. You get to select your meat from the butchery and decide on what you want with it - pap, samp dodorhoyi (steam bread) and amadombolo (dumplings). You then proceed to the braai area where you hand over your meat in exchange for a number. When it's ready your number is called and you get to taste the tenderest piece of meat you've ever had. It's delicious but messy, as Mzoli's being a typical township eatery, doesn't offer cutlery. Even Jamie Oliver is a fan, describing Mzoli's as "sexy" and praising the "incredible flavour" of its grilled meat.
You can't buy alcohol at Mzoli's but you can buy it from the neighbouring Shebeen which sells a few different Nederburg wines, Johnny Walker Red and Black and a variety of ciders and beers. Before heading for the Shebeen, stock up on Mzoli's recycled glasses made out of old cider bottles (R5 each). They're quaint souvenirs of an amazing experience.