02 Jun 2015 | By Sun International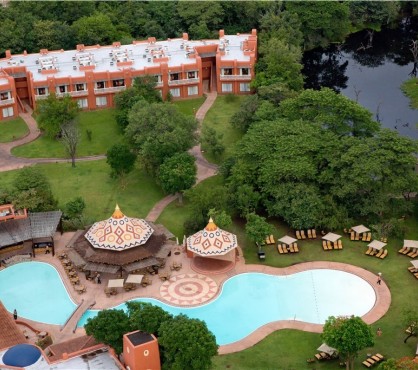 Bruno Siloka's Journey from Small Village to Sculpture Artist
ow did a young boy from humble beginnings become the successful sculpture artist he is today? Bruno Siloka's garden sculptures, which are dotted throughout the grounds at the Zambezi Sun Hotel, bear testament to his unique story of empowerment.
In the same way that his masterfully crafted African sculptures blend into the landscape as though they've always been there, so too is the sculpture artist's success rooted in the Zambian hotel.
Here's Bruno's story:
Discovering his Passion for African Sculpture
As a young boy in the village of Mukuni, Bruno Siloka would rush home from school to watch his grandfather make crafts. Under guidance, Bruno learned and honed his craftsmanship through observation, all the while developing his growing passion for art.
Early Entrepreneurship
Bruno studied art at Linda Secondary Secondary School, where his teacher quickly recognised his talent and potential and encouraged him to sell his work. His very first entrepreneurial endeavour - as a teenager - saw him creating and selling crafts to tourists at Simonga. This allowed him to enrol at the Livingstone Institute of Business and Engineering Studies, where he studied International Tourism for one year. Little did he know that a career in contemporary sculpture awaited
Internship Leads to Opportunities
There's no way Bruno could have know that entering the hospitality industry would lead to him discovering his true purpose and fulfilling his dream to be a sculpture artist. But with only one year of tourism studies under his belt, Bruno joined Sun International.
During his six month internship as a trainee, the hotel became aware of Bruno's passion for art and his unique craftsmanship. Craig Storkey, the Zambezi Sun Hotel Manager at the time was so inspired by Bruno's skills that he gave him the opportunity to supply his handcrafted Nyami Nyamis to the hotel as guests' souvenirs.
Fun fact: The Nyami Nyami, otherwise known as the Zambezi River God or Zambezi Snake spirit, is one of the most important gods of the Tonga people and is regularly depicted as a snake-like being or dragon-like creature with a snake's torso and the head of a fish. It can be found as pendants on jewelry, usually carved out of wood, stone or bone, and is both a fashion accessory and a good luck charm.
Expanding his business
At the end of 2005, Bruno acquired space at the hotel's Activity Centre, from where he began making and selling Nyami Nyamis and other crafts to visitors.
The following year, Bruno's craftsmanship caught the eye of the Zambezi Sun's next Hotel Manager, Sean Toubkin, who introduced him to another line of business.
Using scrap metal, Bruno began working as a sculpture artist, creating warthogs, giraffes, guinea fowls and hippos, which are today displayed on the lawns at the Zambezi Sun Hotel.
In his own words
"I have spent almost my entire life making crafts," says Bruno. "My skill has really helped me become my own boss."
As a successful sculpture artist, he adds that he wouldn't have been able to achieve his dream without Sun International. "I really appreciate what Sun international Zambia has done for me. They empowered me by purchasing the Nyami Nyamis, as well as gave me a place from which to sell my other products to their guests. They made me believe in myself and what I do."
Have you seen Bruno's garden sculptures at the Zambezi Sun?