Travel | 05 May 2015 | By Sun International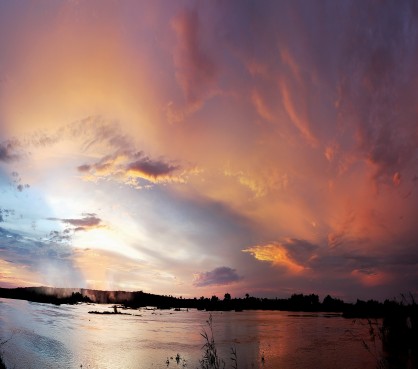 5-Star Honeymooning in Zambia at The Royal Livingstone Hotel
Looking for a honeymoon destination as unique as your love? The Royal Livingstone Hotel specialises in 5-star romance and adventure.
"Some of the most memorable honeymoons have been spent entirely in a hotel room." K.C. David
Sitting on a sundeck on the Zambezi River only a few metres away from the majestic Victoria Falls, it's hard to believe that The Royal Livingstone Hotel is only an hour's flight from Johannesburg. Surrounded by unparalleled natural beauty, The Royal Livingstone invites you to find peace and serenity after a busy wedding celebration.
Part of Sun International's Sunlux Collection of 5-star hotels, The Royal Livingstone offers honeymooners a carefully curated selection of luxury activities and experiences that inspire relaxation and romance. If your exciting arrival by water taxi is a sign of things to come, then you can be assured of a truly once-in-a-lifetime honeymoon experience.
A love nest fit for royalty
From the first sip of welcome cocktails, newlyweds will be enveloped in a romantic atmosphere that gives true meaning to the name The Royal Livingstone. The luxurious Presidential Suite has housed royalty, celebrities and heads of state, but each room is sure to inspire a similar feeling of prestige in all our guests.
Watch the sunset over the Zambezi River right from your private terrace or venture onto the sundecks overlooking the Victoria Falls. From this exclusive vantage point, you'll appreciate that no two sunsets in Zambia are ever alike. For an exclusive and romantic dining experience, book a candlelit dinner under the canopy of the Monkey Tree.
Under the magic of the moon
One of only two locations in the world noted for their regular moonbow observations, Victoria Falls invites couples to experience this incredible natural phenomenon. Moonbows are also known as lunar rainbows because of the rainbow produced by light reflected off the moon. After the sun has set on another magical day, embark on a guided viewing of the moonbow – cloud and spray permitting.
The best kind of couples' therapy
Water defines The Royal Livingstone so it is only natural that the piece de resistance of your Zambian honeymoon would be The Royal Livingstone Water Retreat spa experience. Designed with the health conscious traveller in mind, the outdoor Water Retreat includes a full body exfoliation, botanical wrap, mist system massage and an invigorating lymph drainage treatment.
Embracing Africa's natural wisdom, the spa treatments use aromatic healing ingredients such as Kalahari clay, buchu and wild honey.
Whether you remain in the comfort of your luxury suite or venture outside to enjoy the natural splendour of the Zambia's own World Heritage Site that is the majestic Victoria Falls, your Royal Livingstone honeymoon promises to fill your wedding album with incredible memories.
Discover Sun International's Sunlux Collection of 5-star resorts and experience unparalleled African luxury.