Travel | 27 Jan 2018 | By Sun International
Wanderlust in 2018: here's your South Africa travel guide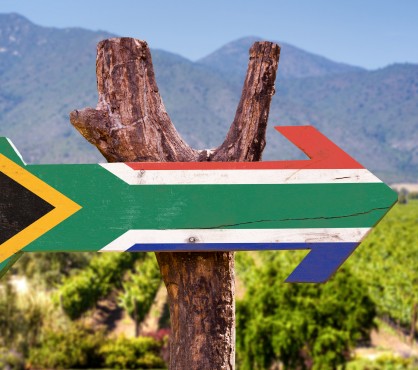 Visit South Africa and experience a world in one country. Whether you're a local exploring your own backyard or a visitor from abroad, South Africa is a culture-rich destination that serves up vastly different landscapes and experiences. Travel South Africa to discover modern cities, unspoilt beaches, semi-desert plains and majestic mountains — all this before your first taste of the vibrant local culture!
Why Travel South Africa?
Holiday destinations in South Africa have it all — hospitable people, excellent infrastructure and a wealth of experiences that can't be replicated anywhere else in the world. Encounter the Big Five on safari, dine at an award-winning restaurant and toast the sunset on the beach, all in one day.
Cultural tourist attractions in South Africa are as rewarding as the country's geographical diversity. South Africa's political history is easily accessible in well-curated museums and landmark monuments, while you can explore natural, tribal and archaeological treasures at several Unesco World Heritage Sites.
Best Time to Visit South Africa
Sprawling between the cold Atlantic and the warm Indian Ocean, the country's favourable climate means you can visit South Africa any time of the year. And because of its famous sunshine, you can get your kicks on any number of outdoor things to do in South Africa, from abseiling, hiking, biking and horse riding to hot-air ballooning.
Where to go in South Africa
Take in the wild landscapes of the Eastern Cape or explore Gauteng's bustling cities. Soak up the charm of the unspoilt beaches of the Western Cape or go soul-searching in the semi-desert plains of the Northern Cape. From wildlife and nightlife to gastronomy to adrenaline-fuelled adventure, South Africa serves up endlessly captivating experiences.
With properties in eight of South Africa's nine provinces, discover the best travel destinations in South Africa with Sun International.
Western Cape
Besides being home to Cape Town, one of the most sought-after holiday destinations in South Africa, few places on earth match the scenic diversity of the Western Cape. Marvel at majestic mountains, dramatic seascapes and charming coastal villages. Despite the beautiful natural surrounds, you'll soon discover that the list of South African tourist attractions in Cape Town extends far beyond the usual sun, sea and surf getaway. Here you'll discover world-class wines, white-sand beaches, world-renowned cuisine and adventure activities. And with three incredible Sun International casinos and hotels in the Western Cape, from The Table Bay at the V&A Waterfront to GrandWest in Goodwood and Golden Valley in Worcester, we'll make sure you experience the best that this remarkable corner of South Africa has to offer.
Eastern Cape
South Africa's Eastern Cape province is known for its untouched wilderness of pristine beaches, verdant bush and ancient woodlands. From the craggy peaks of the Drakensberg mountains to the tangled forests of the Tsitsikamma, the Eastern Cape is home to an incredible diversity of landscapes and habitats to explore when you travel South Africa. Discover unique South African tourist attractions including the Addo Elephant National Park, the dramatic cliffs and beaches of the Wild Coast, and Nelson Mandela's birthplace in the village of Qunu. As one of the most popular family holiday destinations in South Africa, Port Elizabeth is a great choice for whale watching, surfing, angling and hiking, as well as historical and cultural activities. Moreover, Sun International's excellent Eastern Cape hotels – the Wild Coast Sun and the Boardwalk – will make sure your visit to the province is not only comfortable but genuinely experiential.
South Africa Travel Tip: When you visit South Africa, be sure to plan a road trip from the Eastern Cape to the Western Cape (or vice versa) to be able to experience the world-famous Garden Route which connects the two provinces.
Northern Cape
Characterised by wide-open spaces and endless back roads that lead from one horizon to the next, the Northern Cape is South Africa's largest, least-populated province, and possibly the most underrated corner of the country. Stretching from the mouth of the Orange River across the semi-desert Karoo to the red dunes of the Kalahari, the rugged Northern Cape is home to some of the best off-the-beaten-track tourist attractions in South Africa. Visit the Northern Cape to discover open spaces, unique vegetation, famous black-maned lions, star-studded night skies, and one of the world's most important diamond mining towns – Kimberley, a historic yet modern city and one of the most interesting holiday destinations in South Africa.
South Africa Travel Tip: Book your accommodation at the Flamingo Casino to enjoy easy access to popular Kimberley tourist attractions.
North West Province
Famous for being home to Sun City, the North West Province is one of the most popular family holiday destinations in South Africa. Visitors flock here to experience this fantastical resort with its towering spires and crashing waves in the middle of the bushveld. Sun City never sleeps, bustling with an endless variety of entertainment and things to do, from partying and fine dining to archery, zip-lining and safaris. If that's not enough to whet your appetite for wanderlust, things to do in the North West include seeing the Big Five, visiting World Heritage Sites, and enjoying sporting and adventure activities.
Limpopo
At the top of the list of South African tourist attractions in Limpopo is the northern gate to the Kruger National Park. Famous for the Big Five, exceptional bird watching, and untamed bush and mountain landscapes, Limpopo is also the centre of an ancient African kingdom at Mapungubwe National Park.
For access to the best activities in Limpopo, Meropa Casino and Entertainment World is conveniently located in the province's capital city of Polokwane. Serving up non-stop entertainment, cultural and wildlife activities, as well as fine-dining experiences, choose Polokwane as your next holiday destination in South Africa. 
KwaZulu-Natal
Home to two World Heritage Sites and some of the most popular beaches in the country, it's no surprise that KwaZulu-Natal is one of the best South African destinations for a family holiday. The province's dramatic mountains, rolling green hills and historical and cultural attractions form the perfect backdrop to a myriad adventure and leisure activities. And with a perennially warm climate, KwaZulu-Natal offers
a year-round playground for local and international visitors alike, with plenty of things to do in Durban. Tapping into the heritage of KwaZulu-Natal, Sibaya Casino and Entertainment Kingdom offers gaming, entertainment and accommodation. Only a few minutes away from King Shaka International Airport, Sibaya is the perfect launch pad from which to travel South Africa.
Gauteng
There's no way you can visit South Africa without experiencing the cocktail of urban adventure and entrepreneurial spirit that is Gauteng. Bustling and energetic, South Africa's smallest province is also the country's most populated, and the hub of national commerce and industry. With several destinations to choose from within the borders of Gauteng, you can soak up the glamour of Sandton from The Maslow, enter a fairground of fun on the East Rand at Carnival City or be a part of South Africa's first green city at Time Square in Pretoria. Visit the Cradle of Humankind, the Apartheid Museum, the sprawling neighbourhood of Soweto, Sandton City shopping mall and Nelson Mandela Square — among the best South African tourist attractions.
Free State
Bordering Lesotho, in the heart of the country, the Free State is not only one of the most frequented road trip stopover destinations in South Africa for visitors travelling between Gauteng and the Western Cape, but also offers a wealth of cultural, historical and natural treasures. The epitome of big sky country, the Free State is all about open plains and soaring sandstone mountains. Wondering where to stay in Bloemfontein? Windmill Casino and Entertainment Centre is waiting to welcome you before you set off to explore the many South African tourist attractions in Bloemfontein, including the Kings Park Rose Garden, Oliewenhuis Art Museum, Loch Logan Waterfront and Anglo-Boer War Museum.
South Africa Travel Tip: Extend your road trip stopover in Bloemfontein to explore more of the Free State, one of South Africa's hidden gems.
Whether you want to experience South Africa in luxury or do an extended family holiday in comfortable self-catering accommodation, Sun International invites you to explore exciting holiday destinations in South Africa.