26 Aug 2014 | By Sun International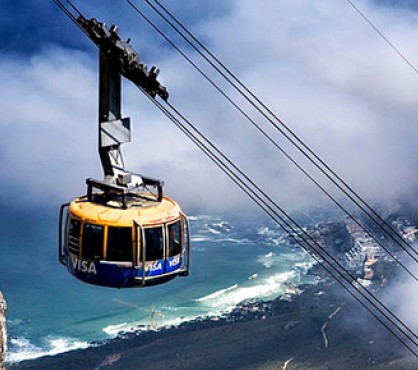 10 Things to Do in Cape Town with Kids
While Cape Town is famous for being one of the most beautiful cities on earth, it's fast becoming one of the world's top child-friendly destinations too. From summiting Table Mountain via cable car, to frolicking with penguins in Simon's Town, Cape Town has a plenty of child and family-friendly activities and experiences on offer. Come rain or shine (or as the saying goes: if you don't like the weather in Cape Town, wait 5 minutes), there's always something to do to keep the kids entertained.
Set on the historic Victoria & Alfred Waterfront, the Table Bay Hotel is perfectly situated to take full advantage of Cape Town's most incredible sights and child-friendly attractions. While your Superior Luxury Family Room is tastefully designed to feel like a home away from home (with glorious views of the Atlantic Ocean and Table Mountain), there's no excuse to be stuck inside all day. Get the kids ready and head out for some family fun.
1. Visit the world-famous Two Oceans Aquarium
Conveniently located at the V&A Waterfront, the Two Oceans Aquarium is home to more than 3,000 sea animals. Marvel at fish, sharks, turtles and octopi in this enchanting underwater kingdom. The kids will love getting up close and personal with anemones at the Touch Pool.
Entry: Adults R125; Children under 17 years R97; Children under 13 years R60; Children under 4 enter free of charge. The aquarium is open every day from 9:30am to 6pm.
2. Play at the Cape Town Science Centre in Observatory
With more than 250 interactive science exhibits and brain-teasing puzzles, the Cape Town Science Centre is guaranteed to keep young minds engaged and entertained. Hands-on displays, science shows, workshops, and more: the CTSC is a world of scientific discovery under one roof.
Entry: R38 for a full day. The CTSC is open from 9am to 4:30pm on Mondays to Saturdays, and from 10am to 4:30pm on Sundays and public holidays.
3. Visit the Intaka Wetlands at Century City
A short drive north from the Table Bay Hotel, Intaka Island is a majestic wetland and bird sanctuary, situated in the heart of bustling Century City. Home to a cacophony of rare and popular birds, as well as exquisite flora, the kids will delight in a ferry ride, or a leisurely stroll along the winding foot paths.
Entry: Adults R12,50; Children under 12, R7,50. The reserve is open from 7:30am to 5:30pm during winter (May to September) and from 7:30am to 7pm during summer.
4. Explore the Cheetah Outreach Centre in Somerset West
45 minutes north of the Table Bay Hotel, Cheetah Outreach is a conservation, rehabilitation and education centre that aims to raise awareness about the plight of the cheetah. The kids will get the chance to come face to face with one of South Africa's most majestic wild cats, as well as see other small predators, like servals and foxes. Don't miss the opportunity to let your little one play with a cheetah cub.
Entry: R10 on weekdays; R5 on weekends. (Does not include personal encounters with adult cheetahs or cubs). Cheetah Outreach is open all week from 9:30am to 5pm.
5. Visit the Warrior Toy & Naval Museums in Simon's Town
Housing a permanent display of model cars, dolls and doll houses, teddy bears, miniature railroads, lead soldiers, and much, much, more, the Warrior Toy Museum in Simon's Town is a treat for both the young and the young at heart.
Entry: R5. The museum is open every day except Friday from 10am to 3:45pm. Tel: +27(0)21 786 1395
When you're done marveling at the vintage treasures from toy boxes of old, hop over to the Naval Museum for an educational and entertaining display of model ships, submarines and navy history.
6. Spend an exciting day at the Ratanga Junction Theme Park at Century City
With more than 30 different rides suitable for children of all ages, as well as several entertainment attractions, Ratanga Junction is an adrenaline-fuelled day of screaming fun.
Tickets: R172 if you're taller than 1.3m; R85 for the little ones. Contact the park for an operating schedule, as opening times are affected by the weather.
7. Play pirates on the Jolly Roger Pirate Boat
Set sail for an adventure on the high seas. The Jolly Roger Pirate Boat departs from Quay 5 at the V&A Waterfront every day in the late morning, at lunchtime and at sunset, and includes a live pirate show that will thrill the whole family.
Tickets: a morning or afternoon ride costs R60 for kids and R120 for adults, and a sunset cruise costs R100 for kids and R200 for adults.
8. Pick strawberries at the Mooiberge Farm Stall in Stellenbosch
Spend a day picking plump, juicy strawberries at the much-loved Mooiberge Farm Stall, between Stellenbosch and Somerset West. The kids will love the scarecrows. Open daily during the December school holidays from 9:30am to 4:30pm.
Price per kilogram picked. Tel: +27(0)21 881 3222
9. Go Tobogganing at Cool Runnings
Remember the movie Cool Runnings? Take your little speed demons on a bobsled rush at South Africa's first tobogganing track, situated on the hillside opposite the Bellville Velodrome. Those under 8 years must ride with mom or dad.
A single ride costs R30. The track is open from Tuesday to Friday from 12pm to 6pm and on weekends from 9am to 6pm. Cool Runnings is closed on Mondays, except during school holidays, and on rainy days.
10. Go ice-skating or ten pin bowling at the Grand West Casino & Entertainment World
Summer or winter, novice or expert... The Olympic sized ice rink at the Grand West Casino and Entertainment World is a whole lot of icy fun. Tiny skaters get the whole mini-arena to themselves without having to dodge the bigger skaters.
It costs just R35 (including skates), R30 during half rink skating (the club uses the other half) and R40 at peak times during weekends. Tiny skaters score ice time at only R15.