People | 10 Dec 2019 | By Sun International
SA's Zozibini Tunzi crowned Miss Universe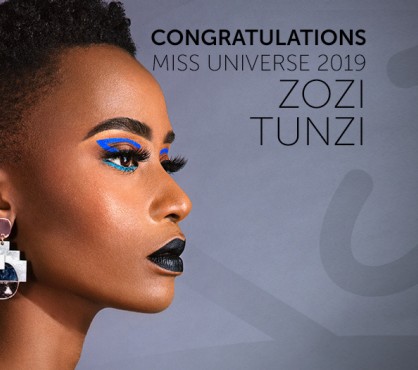 From a small town in the Eastern Cape to the darling of the international pageant stage, Zozibini Tunzi's journey to Miss Universe is awe-inspiring
A resounding cheer swept across South Africa when Zozibini Tunzi (27) was named Miss Universe 2019 at the Tyler Perry Studios in Atlanta, USA, on 9 December. Zozi, as she's affectionately known, becomes the third South African to wear the Miss Universe crown, following in the footsteps of Margaret Gardiner (1978) and Demi-Leigh Nel-Peters (2017).
The 27-year-old beauty from Tsolo in the Eastern Cape dominated the competition from the get-go. She was the first contestant to make it to the Top 20 and sailed through the swimsuit and evening gown rounds. However, many believe that it was her confident response to host Steve Harvey's question about what she would change if she was named Miss Universe that clinched her the crown.
"The most important thing we should be teaching young girls today is leadership. It's something that has been lacking for a long time. Not because we don't want to, but because of how society has labelled women," she told Harvey. "I think we are the most powerful beings in the world and that we should be given every opportunity. That is what we should be teaching these young girls. To take up space. Nothing is as important as taking up space in society and cementing yourself."
Zozi's journey to Miss Universe began when she was crowned Miss South Africa at Sun International's Time Square Sun Arena in Tshwane on 9 August. Sun International was involved with Miss South Africa for 20 years before it sold the rights to the pageant to Weill Entertainment earlier this year; however it remains one of the sponsors. Zozi is also the face of The Sun Met 2020, which is hosted by Sun International.
"We've watched Zozi's journey from entering Miss South Africa to conquering the universe with awe," said Anthony Leeming, Sun International Chief Executive. "Her courage and determination has been an inspiration to many across South Africa – and now the world!"