People | 15 Feb 2021 | By Sun International
What's the deal with life as a croupier?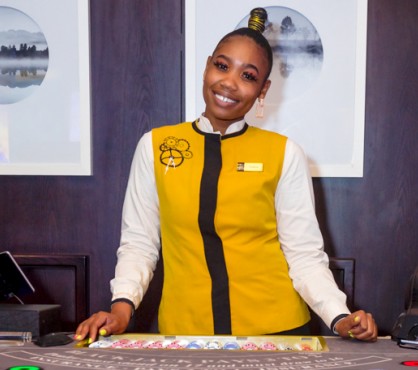 Time Square croupier Thabiso Lehubye | Photo by Zuzi Seoka
Forget the machines and promos – dealers are the real mainstays of any casino. Time Square's Thabiso Lehubye gives insight into being on the other side of the gaming table.
People are the lifeblood of any business, and it's no different at Time Square Casino in Menlyn, Pretoria. Dealers – or croupiers if you prefer the fancier term – are the unsung heroes of any gaming operation, keeping the floor ticking, smoothing over problems and helping patrons feel at ease.
Working as a waiter at Time Square piqued Thabiso Lehubye's interest in gaming. After training to learn the rules of all the available games inside and out, deck mechanics, chip management, and other dealing elements, the 28-year-old Pretoria native joined the industry in earnest seven years ago. She hasn't looked back since.
Contrary to how they are often portrayed by Hollywood, croupiers are not expected to be staid and excessively formal, dishing out the cards like some sort of hit-or-stand robot. Because gaming is given to high emotion, with fortunes won or lost instantly, the modern dealer needs to be an effective diplomat.
Being personable and welcoming to players no matter their bankroll can pay dividends – shrinking violets need not apply. At the same time, you don't want to cross the line and become overbearing or simply annoying – there is, after all, money at stake.
At the Black Pearl Roulette tournament held at Time Square last year, for example, the croupiers were as important to its success as the players themselves. They often took on the role of marketers as they danced in the aisles, cracked jokes with participants and even took the emcee's mike on occasion.
Being at the table, talking with players and making them feel comfortable… that's my favourite part of the job. You get to meet many new people and different personalities while on shift.
The players really add to job satisfaction – as an experienced dealer, you will get to know regulars very well. I'm a people's person at heart, and I think this is why I do well as a dealer. It's just wouldn't be the same if I wasn't at the tables," explains Lehubye.
There are more than a few perks to working as a croupier. Your workplace is usually a fun and vibrant environment and offers the opportunity to engage with a range of people. It's part customer service, part show business.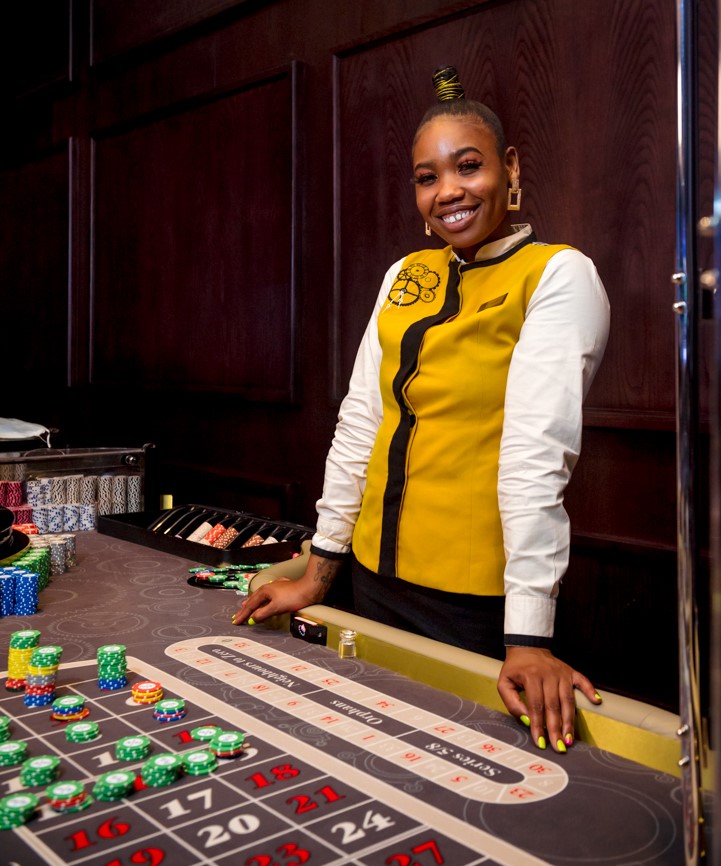 And then there are the tips, which can be very generous and are pooled so that all croupiers can benefit. It's also a vocation that is proving particularly attractive to women – the majority of the dealers at Time Square Casino are female – and one which boasts a clearly defined progression from working the tables as a trainee to a supervisor, pit boss, management and even executive levels.
But it would be a mistake to think that dealing is all smooth small talk and glamour. Games can get tense, so you need to handle the pressure. You need to keep the game moving smoothly and stay focused during quiet or busy times, day or night.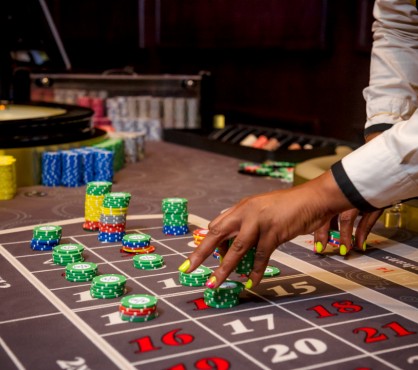 On-the-job training doesn't stop. We learn something new every day. It also helps if you are good with numbers, as we don't have calculators at the table," smiles Lehubye.
Her favourite table game is Roulette, because of its dynamism and simple betting system. It's also one of the games in which she encounters fewer problems with punters.
"There are problems with players from time to time. Sometimes you'll have an issue with someone who's had a little too much to drink or is just having a bad day. It's part of my job to handle this sort of thing – you need to stay professional and read the table. Besides, there's always a supervisor on hand to help if needed," says Lehubye, adding that a good relationship with managers and colleagues is essential to success in this field.
This intensity of her occupation is one reason Lehubye prefers to leave the casino behind her completely when she's not on duty. "I don't think about cards or tables when I'm at home. I like relaxing and enjoying time with my friends. I'd have to refuse if they ever asked me to play a game of poker or blackjack with them!" she laughs.
Lehubye may not be interested in a spot of social gaming when she's not on duty. Still, the relish with which she and her peers take to the job is a major factor behind Time Square's success and that of other properties in the Sun International stable.