People | 02 Mar 2020 | By Sun International
The sweet taste of success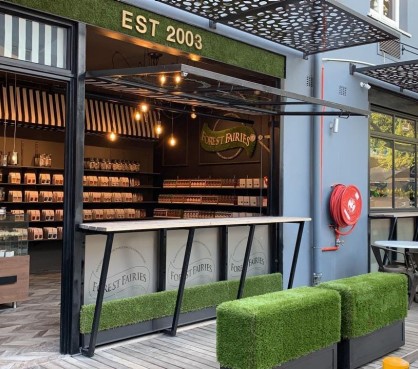 Thejes Khan's Forest Fairies Sweet Company has grown in leaps and bounds since partnering with Sun International.
Khan was encouraged by an entrepreneurial foundation to launch a successful home-based business that manufactures gourmet sweets, chocolates and confectionaries and find her niche in business. She credits her mother, a struggling entrepreneur who taught her to bake and cook, for giving her a great start.
After a seven-year career as a flight attendant and much encouragement from her husband, Durban-born Khan turned her hobby into a thriving business. She hasn't looked back since opening a shop in Florida Road, Durban, and began supplying local spice shops, butcheries and bakeries.
The business now supplies hundreds of clients nationwide, from spas and corporates to shops and other enterprises, with delectable products manufactured in its 1 000m2 factory in Clairwood, Durban. It's also gained traction internationally, attracting customers as far afield as South Korea owing to its online retail business, which was launched last year.
"I started my business from home, with help from my husband and our domestic helper. My goal was to manufacture and sell 100 nougat bars a week – I had no idea I would be where I am today," she says.
Khan began supplying Sun International almost 10 years ago. The relationship began with a meeting to introduce her company and share product samples, which led to her first order for turn-down chocolates. Over the years, the relationship between Forest Fairies Sweet Company and Sun International grew stronger and her company gained recognition as a preferred supplier across the latter's properties.
She also received mentorship and valuable lessons in hospitality from Sun International, which she credits for the growth of her business.
"I've received a lot of support from Sibaya Hotel and Sun International. I'm working on more products and acquiring new machinery, which will result in us employing more staff. We want to prove that South Africa can be a leader in manufacturing world-class sweets and chocolates," says Khan.
She describes entrepreneurship as a huge responsibility that demands hard work, with no room for self-pity during tough times. Fortunately, Khan's affable leadership motivates her staff to deliver their very best.
"Creating jobs is my biggest achievement and one that I find tremendously rewarding. I believe in creating a business that takes care of many people. We have a wonderful Forest Fairies family – I miss my staff dearly when I'm away, even if it's just for a day.
Forest Fairies Sweet Company's unique selling point: Deliciously unique handcrafted confectionery.
Power tip:
"Entrepreneurs must be prepared to do the hard work. Even though we become bosses, in order to remain successful, we must never forget that we will always be workers."