People | 23 Nov 2015 | By Sun International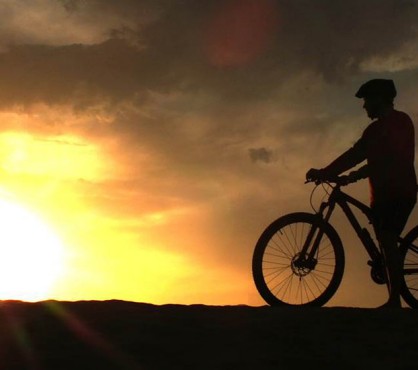 Wayne Bolton tackles an amazing rhino conservation project
Why would one man decide to cycle 6 000km across 19 SANParks reserves in 80 days? It would take a dedicated and unique individual to see this commitment through. And there is definitely something remarkable about Wayne Bolton, not least is his passion for the rhino conservation project he is about to embark on: One Land Love It. When it comes to rhino conservation South Africa cannot afford to take a passive role. With our rhino population dwindling rapidly due to poaching, drastic steps need to be taken to conserve their numbers. And through the One Land Love It expedition and rhino conservation project, Wayne plans to address this issue.
Wayne Bolton is planning to begin his approximately 80-day journey on 28 November 2015. We took the opportunity to chat to him about the project, the long journey ahead of him, what ordinary people can do in terms of conservation and where he will be spending Christmas.
How Wayne Bolton's rhino conservation project journey began
Having always had a passion for wildlife and conservation, Wayne wanted to make a difference with his conservation efforts – particularly for South Africa's rhino population. Wayne is a qualified FGASA Level 1 Field Guide for the Kruger and Addo areas which have fed his love and appreciation for the environment.
"I am a SANParks Honorary Ranger in the Addo Region and so my attention immediately went to the excellent role that SANParks plays as custodian of our wildlife," says Wayne. "By linking the various SANParks national parks, I could symbolically show that as the people of South Africa, we need to unite to protect and restore our natural heritage. Our country boasts the most incredible beauty and diversity and I hope to draw attention to this as well as an associated call to action."
What goals does he hope to attain?
"We have two goals: raising funds for our beneficiaries, and raising awareness as encapsulated in our scroll wording," Wayne answers.
Those beneficiaries are worthy recipients indeed. Wayne plans to purchase counter-poaching equipment for the SANParks Honorary Rangers who are out in the field protecting our rhinos and other animals. The other beneficiary is a rhino orphanage: Care for Wild Africa. With 25 rhino calves currently in their care, Care for Wild Africa need about R10 000 for food and medical care for each calf. Wayne plans to assist them with much-needed funding as their resources are stretched.
Wayne will also be carrying the Scroll of Unity with him on the expedition which will be signed by each of the SANParks Park Managers to signify their commitment to preserving South Africa's natural heritage. The scroll reads as follows:
"We, Champions of Conservation, unite in our efforts to preserve the natural heritage entrusted to us by the people of South Africa, those gone and those to come.
United we stand, acknowledging that in these crucial days of our environmental preservation unity of purpose and effort is essential to our strength, as the individual strands form an unbreakable rope.                                                                                                                                                                          
With each one, lies the power of change". 
Where will Wayne's rhino conservation project take him?
"My journey will take me from gate to gate of all 19 SANParks national parks, starting at Kruger's Pafuri gate on 28 November 2015, and ending in Nelson Mandela Bay at Addo Elephant National Park on 13 February 2016," says Wayne.
Will he be doing it on his own? "I will have a support team who will meet me in each park, but in between I will be on my own," Wayne replies. "The support team is led by my wife Nikki, and consists of both my parents, my father-in-law, our son and daughter and friend."
He will take a brief rest over Christmas, making the most of the day by spending it with his wife, daughter and friend before setting out again early on Boxing Day.
Wayne's family is dedicated to his cause and plan to show that as a family of three generations that they are prepared to stand up and make a difference – they call it #jointcustody. Along the route, Wayne will be interacting with the communities who live near the parks to raise awareness of his rhino conservation project and educating on the importance of preserving our natural heritage, pointing out how it can create a difference in their lives through tourism and job creation.
Wayne says he is looking forward to discovering the new wild places he hasn't seen yet as well as the long lonely road to get to some of them.
The Boardwalk Hotel and Casino lent a helping hand
On 29 October 2015, a black-tie event was held at The Boardwalk to raise funds for the beneficiaries of One Land Love It expedition. Brett Hoppe and his team successfully pulled off an amazing evening with Ashley Dowds at the helm as MC and inspiring talks by adventurers Braam Malherbe and Vasti Geldenhuys. Guests enjoyed a fine dining experience and a total of R120 000 was raised through an auction held on the night.
Where can you get involved?
In terms of rhino conservation, South Africa has a long battle ahead. Poachers have left a trail of destruction in their path and many ordinary citizens feel helpless to make a difference. Wayne says that understanding the need for creating a sustainable environment is fundamental in taking the first step.
"This understanding should create a realisation that we can no longer afford to leave the plight of our environment to what we perceive as 'nature radicals' – the Green Peace's of the world, for example," Wayne explains. "We are at a point in history where responsible citizenship is required at all levels. Unless as a collective in South Africa we develop an environmental consciousness, we will fail.  It is now up to the ordinary people in our land to take responsibility.
"This responsibility starts at home. It starts with teaching our children the basics: how not to waste precious water; not to litter; to save electricity; to recycle our domestic waste and not to poach, for instance.
"So, in short, each individual should do what they can, wherever they find themselves, to positively contribute to the preservation of our natural environment – this could entail financially supporting institutions who are making a difference, or merely sharing a meaningful Facebook post. However, the important thing is to do something.
"I believe we need to get more in touch with our environment – and, therefore, ourselves – by spending more time in it, leaving our rushed world crammed with electronic devices and visiting our national parks and enjoying what is around us."
Following Wayne's journey
Want to follow Wayne's progress as he cycles the 6 000km route? As of 28 November, you can track his daily progress here or you can send him messages of encouragement via One Land Love It on Facebook, Twitter or Instagram.
If you would like to donate to Wayne's rhino conservation project, visit the website and donate here.
All the best, Wayne Bolton!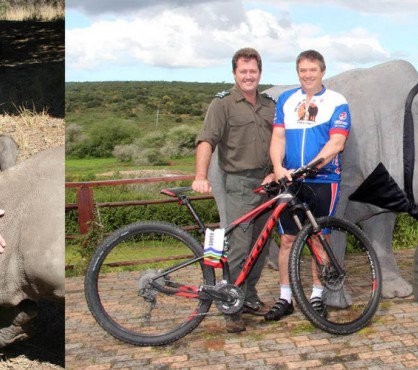 Wayne Bolton tackles an amazing rhino conservation project
Left: Wayne Bolton with two of the orphaned calves at Care for Wild Africa – one of the beneficiaries of his rhino conservation project.
Right: Wayne Bolton is a SANParks honorary Ranger. Here he is pictured at Addo Elephant National Park with Rangers including the Head Ranger John Adendorff.
Picture credit: Jacki Ulett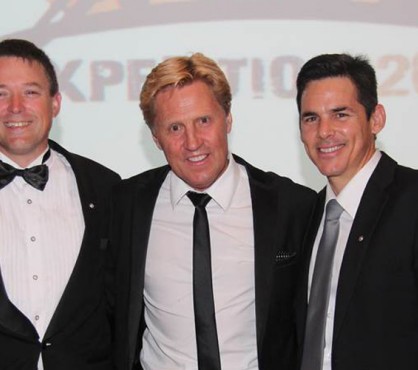 Wayne Bolton tackles an amazing rhino conservation project
At a black-tie fundraising event held at The Boardwalk on 29 October 2015, Wayne Bolton stands with guest speaker Braam Malherbe and celebrity MC Ashley Dowds. More than R120 000 was raised for the beneficiaries of the One Land Love It expedition that evening. Picture credit: Jacki Ulett