People | 28 Aug 2014 | By Sun International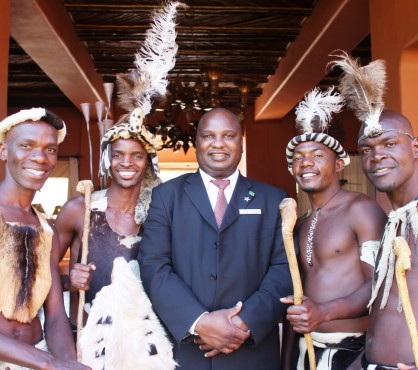 Prezley Mungala: Hard Work Pays Off In Hospitality
In a tale that reads like the plot of a feel-good Hollywood movie, a hotel porter from humble beginnings worked his way up the ladder of success to be named Operations Development Manager at the Zambezi Sun hotel.
Prezley Mungala is living proof that with passion, determination and the right attitude, the rewards greatly outnumber the challenges in the dynamic and fast-paced hospitality industry.
Prezley, who hails from the small Zambian town of Monze, joined Sun International in 2001 as a porter at the Royal Livingstone hotel. His exceptional people skills and commitment to excellent service were quickly recognised and he soon moved up the ranks to Doorman, Head Concierge, and Assistant Front Office Manager.
Later, as Accommodation Services Manager, Prezley trained with Magnums Butlers International of Australia to successfully enhance the butler services at the Royal Livingstone.
Opportunities and further training
Taking advantage of Sun International's Inter-property Exchange Programme, Prezley gained invaluable experience at the Palace of The Lost City at Sun City in South Africa, managing its Front Office and Housekeeping Operations.
The programme also afforded him opportunities for practical experience at other properties such as Sibaya in Durban and the Carousel in Pretoria, where he was exposed to all aspects of the hospitality industry. Prezley received extensive training in managing technology, security and loss prevention management, financial management, industrial and employee relations, and property management.
After a return to the Royal Livingstone as Rooms Division Manager, and Mungala has recently been promoted to the important role of Operations Development Manager at the Zambezi Sun hotel.
No substitute for experience
While much can be said for the benefits of studying hotel management (certainly, get a qualification if you can), Prezley Mungala's story isn't a narrative that begins with a framed graduation certificate. From his very first day as a porter, his role required him to hone his people skills, present the best version of himself, and commit to the highest standards of service.
From carrying bags to dealing with late night customer requests, Prezley's experiences have enabled him to build on his skills set and progressively advance his career to the position of manager. His personality, enthusiasm for learning and growth opportunities, and his determined persistence to flourish in a fast-paced environment, have played a massive role in his rise too.
Personality traits for the hospitality industry
The hospitality industry is essentially about managing people, from guests to staff, and suppliers. Therefore, certain characteristics and personality traits are essential to achieving success in this field.
First and foremost, excellent people skills are key. Whether you're a social butterfly or not, this is an industry that requires good communication, friendliness, and a genuine interest in your customer's needs. Exercising patience at all times is crucial, as is steely resilience. Guests are entitled to their bad days, and resilience to difficult moods will serve you well in this career.
Flexibility and adaptability, multi-tasking abilities, attention to detail, and great organisation skills are also some of the necessary personality traits you require to thrive in this demanding service industry. At the very least, you'll need a lively enthusiasm to make it through long, rigorous hours of work.
Besides the meaningful support that Prezley received from Sun International to grow his strengths and nurture his development, thus shaping his career path, he maintains a good attitude is critical to succeeding in the hospitality business.
He describes a good attitude as a secret power that works 24/7, and says it is of paramount importance that hospitality industry employees maintain a good attitude throughout the daily demands and challenges of their jobs.
Prezley is excited about the prospects that come with his new position, and remains ever-committed to enhancing and maintaining the Zambezi Sun hotel's reputation as a premier leisure destination in Zambia.
Find out more about career opportunities at Sun International here.