People | 11 Mar 2020 | By Sun International
In the spotlight: Nitesh Matai, Sunbet's new GM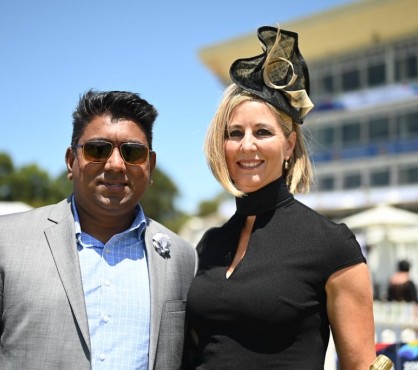 Sunbet General Manager Nitesh Matai (L) with horse trainer Candice Robinson Bass at The Sun Met 2020
"We have the ability to offer personalised service and the widest variety of sports in SA today, the lack of which is one of the reasons many smaller operators close down soon after launching." Nitesh Matai
Due to the prohibition of online gaming in South Africa, web-based sports betting has seen a massive upsurge in recent years, with companies fighting for their piece of the punting pie. For Sunbet's new GM Nitesh Matai, it's not a case of waiting for the day when online gambling is legalised, but seeing the "threat" as an opportunity to diversify Sunbet's product offering.
With a background in online gaming and entertainment, Nitesh knows that Sunbet customers are looking for a fast, trustworthy online experience. The firm's recent infrastructure upgrade puts it at the forefront of online sports betting in South Africa.
"The industry is highly competitive, so we have to push the envelope and keep up with global technology trends. The new Sunbet platform has a faster verification process, so it's very easy to register an account and start betting on your favourite sport," says Nitesh.
As the former GM of one of Africa's largest film exhibition companies, Nitesh knows that content is king, and as part of a broader customer acquisition strategy, he is challenging his team to explore innovative ways to bring value to Sunbet customers – whether it's through enhanced user experience or leveraging Sun International experiences as a perk.
At its heart, Sunbet is all about sport. "We offer a large selection of sport to bet on – including rugby, football, cricket, tennis, and horse racing – and access to global sports events such as the entire NFL and NBA seasons, UEFA Euro 2020, and the Olympics. What makes Sunbet such a compelling proposition is range of bet types.
"We also cater for all types of players – from casual Saturday afternoon gamers to the more serious punters. Our player safety policies and secure infrastructure ensure that we steer clear of the reputational damage caused by fly-by-night gaming platforms," assures Nitesh.
A digital native, he believes that Sunbet is on the verge of lift-off. "The past few years have been about building and stabilising the platform, and now we're poised for a massive increase in player acquisition through product diversification. Sunbet has a very strong brand presence and we're ready to expand with sport that appeals to a younger, non-traditional market," he says.
So, what can we expect to see on Sunbet in the future? "An even broader range of products that include virtual gaming and lottery-style bets. With customer experience being a big focus for us in 2020, we want our customers to have a level of fun that is second to none. It's critical that we're able to give them the best value for money through world-class customer care, proper VIP management, faster payout times, and a fantastic experience overall," concludes Nitesh.
Click here to register your free account with Sunbet, or download the Sunbet app.