People | 09 Feb 2021 | By Sun International
New flavour at The Maslow Sandton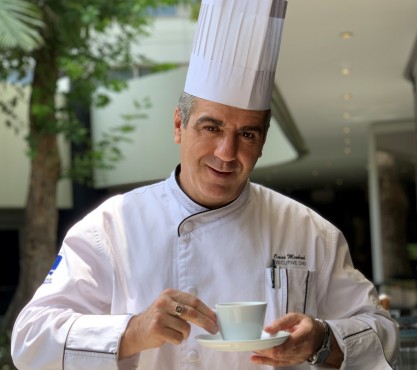 Chef Omar Menhouk returns to Sun International as the new Executive Chef at The Maslow Sandton with the promise of tantalising  Mediterranean cuisine, tapas and a wider choice of vegan and vegetarian dishes
When the new Executive Chef at The Maslow Sandton says he doesn't look at the time but looks to see if a job is done, then you start to appreciate why Algerian-born Omar Menhouk drinks up to six espressos a day.
With more than 20 years' experience at some of the continent's most exclusive properties, he first arrived in South Africa in 1994 to open a well-known French restaurant in Pretoria. He returned to Gauteng in December 2020 after working in neighbouring Swaziland to head up the kitchen brigade at The Maslow, Johannesburg's premier business hotel in the heart of Sandton.
Having worked for a member of "the Leading Hotels of the World" and one of the world's most exclusive game lodges in Kenya, Menhouk prides himself on attention to detail and knowledge of many of the world's leading cuisines.
He has cooked for the likes of Sir Richard Branson, the First Lady of Zambia and the Saudi royal family.
"Branson was a true businessman and a gentleman. He would ask me to dish up what I thought he should eat from the buffet."
His mentors include Graham Wood, Sun International's COO for hospitality, and Australian chef Peter Washbourne, whom he attributes as "having built my name and my career when I worked at The Palace at Sun City".
"Today, I am recognised for my training skills. Nurturing young aspiring chefs to reach standards of excellence is a passion for me."
Menhouk enjoys creating innovative dishes and cooking with lots of herbs and spices. These include turmeric, ginger and Himalayan salt. "I stay away from canned ingredients."
In his own fridge, Menhouk says he always has fresh vegetables, lettuce and all types of fruit, as well as lamb, fish or calamari.
"I am happy to be back at Sun International and at The Maslow, with its beautiful garden environment. Although systems have changed since I was last with the group, with many improvements to ordering and receiving, it still feels like home, and we are looking forward to more guests returning."
This is not Menhouk's first foray into cooking for Sun International guests. Early in his career, he worked as a Chef de Partie at Sun City from 1998 until 2001 and returned as Executive Sous Chef a year later. Since then, he has cooked his way up to his most recent position of Resort Executive Chef at the Royal Swazi Spa.
"I am happy to be back home and closer to my 3 daughters, 2 of whom live in Pretoria," he said.
With a diploma in cooking from Algeria, Menhouk speaks 5 languages, including Arabic, Swahili and Italian, which helps with staff and guest relations.
"I like to make sure my guests are happy and don't leave disappointed. Your meal must be quality and delicious.
"But you are only as good as your team. You all pull the wagon together. Remember, I cannot cook every dish myself. When my team does something wrong, I point it out, and the same for when they do a good job," Menhouk said.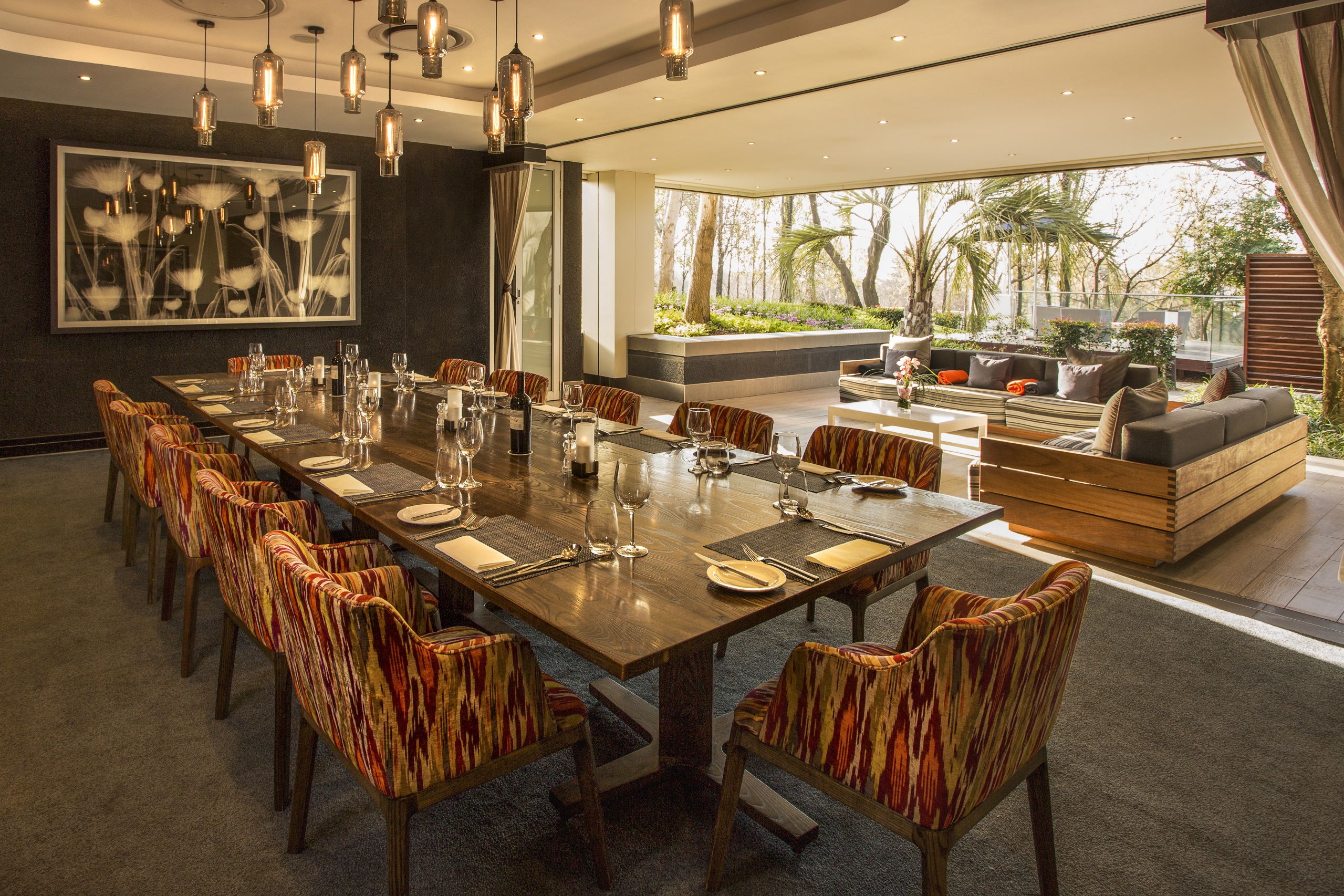 Private dining room at Lacuna Bistro at The Maslow Sandton
Menhouk has taken advantage of the quieter period during the COVID-19 lockdown to adapt the menus and add some exciting dishes. "Of course, we won't remove guest favourites, but I am looking to do something very different. More Mediterranean cuisine, delicious steaks with premium cuts, Wagyu and Angus beef, and lovely tapas in our bar overlooking the pool and gardens." In line with the growing trend for vegetarian and vegan dishes, these dietary requirements will also be catered for, while halaal and kosher meals will also be served if requested 48 hours in advance.
Menhouk's new creations make their debut on Valentine's Day when a 4-course lunch will be served at the Lacuna Bistro. Choices include crab, an oyster cocktail and smoked fish or a creamy leek and mushroom vol au vent platter, for starters. For mains, guests can tuck into 21-day aged filet mignon with potato croquettes, or roasted duck breast with a compote of kumquats cinnamon, or a prawn masala with South Indian lemon rice or handmade ravioli filled with butternut and spinach.
The Maslow is a popular choice for business conferences, weddings, baby showers, birthdays, and Menhouk looking to bring healthier menu choices. "If you're here for business, you don't want to eat something heavy and then have to go back into a session. We are looking to create balanced meals and desserts with less sugar and more fruit."
The Maslow's kitchen staff complement still numbers around 40 people in the pandemic, but this is no issue for a man who has run kitchens with more than 100 chefs. However, exposure to the upmarket Sandton clientele makes this posting one with a small margin for error. "You have to be diplomatic to work with different personalities. You must listen and keep smiling. No-one wants to see a chef with a sour face while they are trying to enjoy their food!"