People | 26 Nov 2019 | By Sun International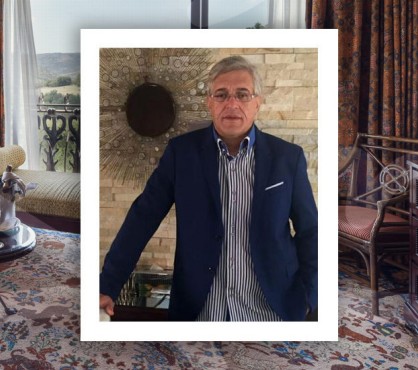 Issy Penniken is a marvellous local craftsmen who's carved out a stylish niche in SA's business landscape over a career spanning several decades.
Penniken's start in the interior design and furniture manufacturing business wasn't exactly glamorous – or planned. He learned the basics of his craft reupholstering furniture for his parents' small business in apartheid South Africa. He's come a long way – his firm, Concept Africa, boasts clients in Dubai, New York, Los Angeles, Paris, and of course, right here at home, with some high-profile names on the list.
To put his business journey into the Sun International frame, Penniken is the man behind all the soft furnishings at The Palace of The Lost City and one of our Supplier and Enterprise Development (S&ED) Programme partners. His company relies on contracts to provide soft furnishings for many hotels and resorts, but he also works with high-net-worth individuals, businesses and decorators on many exciting projects.
"I really wanted to be a sportsman when I was younger," Penniken confesses, as he chats to me over coffee at The Maslow in Sandton. "I unfortunately had to let those dreams go and commit to working in my family's upholstery business. It was a hard choice, but I've come to realise that when you work for yourself, life is full of hard choices."
He says the game changed for him when he got the opportunity to work with a top local interior designer, who went on to become one of his business mentors.
"I learned how the interior design mind works," he says. "It starts with a vision that the designer has for the space; how they want the room to look and feel. Part of that look and feel are pieces of furniture, colours, fabric textures and other décor items that work together to create a picture that's worthy of a photo in a magazine. The tricky thing is that not all the pieces that the designer imagines are available in shops – some of them have to be custom-made or created from scratch, like chairs, or special fabric, or other accent pieces. And that's where I come in. My company designs and manufactures those must-have, hard-to-find luxury furnishes and items."
Penniken's passion for innovation and design has taken him into the homes and businesses of some of the world's most well-known individuals. He says he's incredibly lucky to have been in the right place at the right time for many of these meetings and believes passion and confidence are the keys to sustaining a successful business.
"If you don't enjoy what you do and it doesn't light a fire inside you, you're in the wrong business!" he says.
In 2011, Penniken made the tough decision to leave the family business and work for himself, and Concept Africa was born. The fledgling enterprise had the benefit of his reputation for great work and service – vital in an industry where many referrals are by word-of-mouth.
Penniken has undertaken numerous international projects, which have required him to learn about sourcing quality raw materials, training talented individuals and tricky import-export logistics.
"Working on a global scale can be challenging," he says, "but the rewards when everything is in place make it all worthwhile. You need the right team – and the right partners, like Sun International – around you, though, as they can relieve a lot of pressure. That leaves me free to dream and draw, and turn crazy ideas into beautiful items, which is the core of my business.'
What does the future look like?
"The future is what I make of it, which is really exciting," Penniken says. "I'm going to continue growing my business in South Africa and the continent in the next few years. I have some exciting contracts coming up soon, and I'm also going to focus on marketing Concept Africa to the world. I've been fortunate that I've never really needed to market myself or my business, but if I want to continue to be successful in a competitive marketplace, I'll need to get that locked down."
---
We're sure that Penniken and Concept Africa will continue providing the type of furnishings that keep our guests in the lap of luxury!