People | 02 Nov 2018 | By Sun International
Sun International Beneficiaries — Get to Know our Entrepreneurs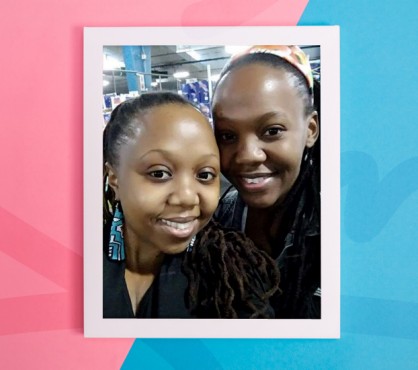 A Frutee Affair, Lisa and Lona
Sun International is passionate about helping small and medium businesses in South Africa, with this philosophy at the heart of our Enterprise and Supplier Development (E&SD) Programme.
We understand that small businesses are crucial to growing the South African economy, contributing approximately 42% towards South Africa's Gross Domestic Product. Businesses with fewer than 50 employees contribute approximately 68% of all employment in the country.
By partnering with qualifying entrepreneurs and business owners, Sun International helps contribute towards South Africa's future economic growth by playing a role in enterprise and supplier development.
Focussed on their business goals and passionate about their product, sister team Lisa and Lona Mthethwa are changing the mindset of food consumption in the township – one healthy meal at a time.
Q: Tell us about a bit about yourself.
A: My sister and I grew up in Umlazi in Durban. I have a diploma in Biotechnology and Lisa has a degree in Business Management and Marketing. After completing her studies, Lisa worked for Nedbank and I went straight into business. That was in 2009.
Q: What inspired you to start your own business?
A: Our passion has always been to bring about change in whatever environment we were in. In 2007 we created an NPO called GIG (God is Good) with the objective to feed homeless people. As much as they appreciated what we did, they would always ask us for a job. So GIG gave birth to Frutee Belliez.
We wanted to start a business that would encourage healthy eating, especially in Umlazi where we were raised. When we started the business we sold fruit salads in township schools.
Q: What service does your business provide and how did you fund it?
A: Our business is separated into two divisions: we supply processed (fresh cuts) and unprocessed fruits and vegetables in bulk to industrial kitchens and catering companies. We also have branded trailers which we use to sell healthy foods (like smoothies, fruit cups, water, wraps and salads) at events. Our aim is to set up these trailers at office spaces. We launched our business in 2009 working from home. Initially, it was funded by Lisa's last salary from Nedbank. Over the years we received funding from various institutions, one of them being Sibaya Casino.
Q: What were the early challenges you faced and how did you tackle them?
A: Finance and access to markets. We kept applying and persisting until we received funding. Sourcing and finding consistent clientele is another challenge.
Q: Tell us about your relationship with Sun International? How did they find out about you and how did it all start?
A: We inquired on the Sun International website and Simon Gardner, who heads up Supply Development Management, responded. He set up a meeting for us at Sibaya Casino and we have been supplying them ever since. We have a very good relationship with Sun International as they have walked this journey with us.
Q: How has your business performed since partnering with Sun International?
A: Because Sun International is consistent, our business has been able to evolve.
They push us to grow even in terms of what we supply to them.
Q: What does your business require most for growth and sustainability?
A: Penetrating more markets – especially via our food trailers. We want access to office parks, more events (especially those hosted by Sun international) and, in the long term, open healthy food outlets.
Q: What are the challenges you face as entrepreneurs in South Africa?
A: Access to finance and new markets; the mindset of being expected to fail even when you're going through challenges that can be overcome; assistance from government and the private sector; and late payments.
Q: What's your biggest business risk and how do you address this?
A: We are dealing with perishable goods in a very demanding industry. Sometimes we have to buy stock for clients who require it last minute and then they don't order what we've purchased. To address this issue, we purchase most of our stock on the day of delivery or the day before. The weather affects the supply and demand of these products and prices fluctuate all the time. We're still trying to find a solution to the weather problem.
Q: How do you find engaging with corporate South Africa, and what can be done better to ease small business into the mainstream?
A: It's not easy. Corporates need to improve their turnaround times for responding to small business. Some want to give grants and loans and not give you business within their companies which would be more sustainable. In an ideal world, corporates would be open to listening to the real needs of SMEs instead of rolling out generic programs of what the corporate thinks we need.
Q: If you had the chance to go back, what would you do differently?
A: Nothing, it has all been a learning curve.
Q: What advice would you give young entrepreneurs who dream of starting their own business?
A: Don't procrastinate, just start and never look back even when challenges come. We need more entrepreneurs! Be fearless!
Q: How many new clients has your business taken on as a result of the support provided by Sun International?
A: Over five! This has helped reduce our reliance on Sun International because now we have different sources of income.
Q: Have you been able to 'pay it forward' to your local community as a result of the support provided by Sun International?
A: So far we've been employing youth from our local communities as well as offering business advice to other budding entrepreneurs. We have future plans to provide more education on the importance of healthy eating.
Q: How many jobs were created as a result of the support provided by Sun International?
A: Over 10.
Q: What's the biggest lesson you've learnt from running your own business and how can this help other entrepreneurs?
A: To be resilient and stay focused in the midst of the noise around you. Listen to advice but don't lose track of your vision, have a hunger for knowledge and attain skills to help run your business well.
Q: Where to next for you?
A: We have land on which we want to set up hydroponic structures and grow lettuce. We also want to bring our trailers up to Johannesburg.