People | 02 Mar 2020 | By Sun International
Behind the wheel of fortune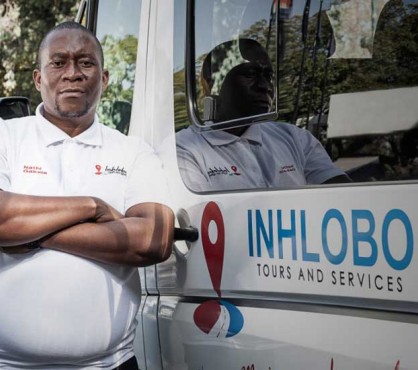 Nathi Gabela, MD of Inhlobo Tours and Services, says his association with Sun International has been a real boon for his transportation business.
Ferrying people to different destinations is a line of work that Nathi Gabela knows well, having cut his teeth in his uncle's shuttle business in 2004. Over the years, he has refined his offering from transportation of students between their place of residence to university to providing a state-of-the-art charter service to five-star-hotel guests.
After years in the transport industry, Gabela found being an employee stifling. His desire to innovate drove him to start his own personal and professional shuttle service tailored to meet the specific needs of high-end clientele. Today, after years of transporting a diverse clientele, the key basics of safety, comfort, reliability and punctuality remain constants in how he manages Inhlobo Tours and Services.
With a staff complement of 10 drivers and two office workers, Inhlobo operates from Pretoria, but offers services across various provinces.
"We work very hard to meet and exceed the transportation needs of our A-list clients. Our values are rooted in customer experience and we always seek to satisfy our clients. We still have a long way to go before we achieve our goals. We learn something new from every trip," explains Gabela.
Inhlobo's first big client was TFMC, which was later acquired by Bidvest FM, opening up his transfer company to a larger market that includes various Sun International properties, such as Sun City, The Maslow, Time Square and Sibaya.
Among his highlights, Gabela lists transporting 200 international delegates in the space of seven days.
"It was truly challenging for us, but we were able to shuttle them from the airport to their hotels, the conference venue and places of interest around Gauteng," he says.
Gabela is full of praise for the impactful role played by Sun International in mentoring him as a businessman and investing in Inhlobo.
"My journey with Sun International has been a most rewarding experience. Having them on our books and receiving continued financial support and guidance has enabled us to move our company from a straddling concern to one with a solid financial foundation. Sun International provides an unforgettable experience to clients and we do everything possible to give ours the same experience. We add value to our clients so that they never have to worry about our staff not being on time."
Gabela believes that, as he continues his journey with Sun International, there is still a lot to be learned, especially when it comes to financial discipline.
Unique selling point: Professional service with affordable pricing.
Power tip:
Be consistent, follow your dreams and work hard. Read up about your industry and surround yourself with people who help you achieve your dreams.