Lifestyle | 03 Aug 2013 | By Sun International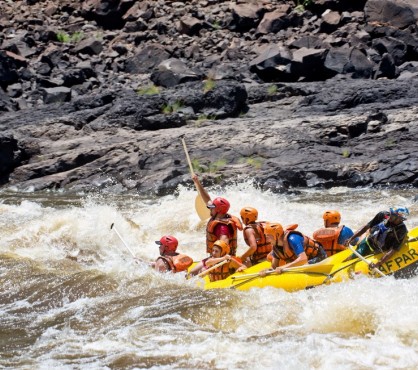 In 1976, while driving through Twin Falls, Idaho, in the United States, Bob Meyer pulled over to pick up a hitchhiker. The man he picked up was a white water rafting guide. So began Meyer's lifelong passion for white water rafting and, in a sense, the story of an explosion of interest in riding the rapids of the Zambezi.
The Zambezi is considered one of the best rafting experiences in the world, with class 3 to 5 rapids. But when Meyer arrived there for the first time in 1982, it had been rafted less than 10 times. "I fell in love with the river, its surroundings and Zambia in general," he says. He also met his future wife here. She hails from the Nsongwe Village. But Meyer's passion for this river means he'll rather explain its location as "near Rapid 10".
The river boasts an incredible run of rapids with names such as "The Devil's Toilet Bowl", "Commercial Suicide", "The Gnashing Jaws of Death", "The Washing Machine" and "Oblivion". But the beauty of the experience is that your guide is qualified to give you a white-knuckle ride down the river, including flipping the raft on command, or a more gentle trip with no flips whatsoever. "It's possible for a raft to flip if the crew elects to challenge the biggest waves head on. It's also possible to finesse these same rapids and navigate them safely without flipping," says Meyer.
Meyer was part of the first group to start training the local Zambians to become rafting guides, and many are now considered world class. In those early days they called themselves the "Z Crew". "We left a legacy in Zambia and it is a damn good one. We had a goal of getting everyone to share and discuss their ideas, concerns and experiences. We lived our passion 24/7 and we made each other better."