Lifestyle | 08 Apr 2015 | By Sun International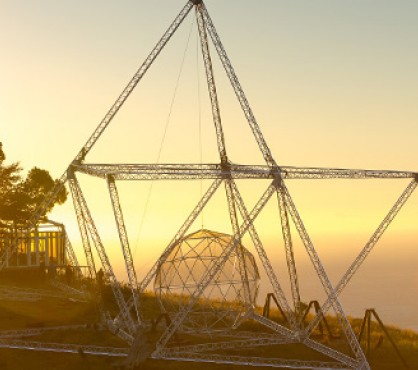 There's More to Explore at the SunStar, One of Cape Town's Most Significant Art Installations
The SunStar on Signal Hill, one of the most meaningful art installations in Cape Town, has been extended with more behind-the-scenes information for visitors to explore.
Designed to celebrate 20 years of democracy in South Africa and shine as a beacon of hope for our promising future, there's more to the SunStar art installation in Cape Town than meets the eye.
On your next visit to Signal Hill, a World Heritage Site, be sure to pop into the new on-site education centre for more in-depth information around the making of the SunStar. Here's a taster of what you'll discover:
Signal Hill in Cape Town was chosen as the site of the SunStar art installation because it overlooks Robben Island, once the home of many South African political heroes, including Nelson Mandela.
The symbolic value of Robben Island lies in its somber history as a prison. It was only in the 1990s when South Africa rejected the inhumane Apartheid regime, that these political prisoners were granted their freedom.
The massive 30-metre high SunStar art installation was constructed from the original fence that once surrounded Robben Island prison.
On a visit to Robben Island, artist Christopher Swift's fascination with discarded material led him to notice a pile of fencing. He was granted permission to have the fence, and formed the Robben Island Art Company Trust (RIACT). The fence has since been used in a number of artistic projects, including a line of jewellery, and the iconic SunStar.
This means that the original fence from the Robben Island prison is helping to create jobs in a new South Africa, rather than rusting away in a landfill.
Anticipating a Bright Future:
After 20 years of democracy, the visionary SunStar art installation stands as a reminder of South Africa's greatest story and a symbol of a bright future.
The 8-pointed star is designed to depict the sun's rays and inspire hope.
The SunStar features a solar-powered light system, which illuminates the sculpture at night. When you enter Cape Town and see this enormous art installation glowing on Signal Hill, know that it is shining in honour of South Africa's bright future.
The SunStar is a catalyst, one that inspires educators to visit the site with the next generation of leaders, and talk about South Africa's history and our struggle for equality.
The sculpture is anchored in the earth with wooden and biodegradable screws to ensure that upon removal of the Cape Town art installation there will be no lasting impact on the environment.
In support of the City of Cape Town, Sun International is proud to be a sponsor of this unique art installation that celebrates our rich history and embraces our promising future. For more behind-the-scenes information, visit our dedicated SunStar Pinterest board, which features photos of the SunStar, as well as educational posters.
"As a new day dawns a light shines from the southern tip of Africa. As evening sets that light shines even brighter. This is no mere sun. It is a beacon of hope." – Sun International