Lifestyle | 29 Apr 2021 | By Sun International
Taking the work out of the workcation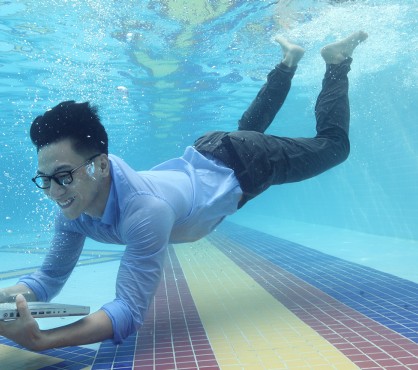 Workcations | Photo by Getty images
A workcation may be the trendy thing to do, but you'll need to give your trip proper consideration to get the most out of it.
Eat, work, sleep, repeat though remember to include a steady diet of Netflix and Zoom meetings. The COVID-19 pandemic gave a new meaning to the word "dreary" across the world, but there were also some good things that came out of the global crisis. 
It was the change in working culture, with employers realising that employees don't need to be desk-bound to be productive. Remote working has become the order of the day instead of inflexible office arrangements.
Enter the "workcation", a holiday that combines business and leisure with the help of technology. Many benefits come with changing your work environment without eating into your precious leave days. 
For starters, you can be more creative. New destinations and experiences can initiate a wave of creativity and inspiration, channelling your energy and increasing your productivity. Without the need for clock-watching, you'll hone in on getting the work done with a minimum of fuss while also achieving a better work-life balance.
"I've been an advocate of the workcation for ages now. As a creative, I draw my inspiration from a range of sources, and a change in scenery is often exactly what I need to be more productive and insightful. The mental refresh is made even better when the destination offers activities that I'm not able to do at home," says Lenin Rajgopaul, a Joburg-based marketing manager.
The fine print
Unfortunately, taking a workcation isn't quite as simple as grabbing your laptop as you head through the door. You will need to inform your employer for professional courtesy and to cover your insurance and legal obligations, and set boundaries covering working hours and availability during your time away. Don't forget to inform clients and customers if necessary – they will appreciate being kept in the loop. 
Be warned: This process may test your negotiation skills if, unlike Rajgopaul, you are not privileged enough to work for an employer who is open to remote working. It may also be a good idea to do some work beforehand, delegate some tasks, and set up your computer with cloud-based tools and hardware to make remote working easier.
Location is everything!
Next, you'll want to choose a workcation-friendly destination. That means one that offers comprehensive WiFi, a fully equipped business centre and plenty of spaces conducive to productive work. You don't want to find yourself in an area with patchy reception, having to work from the couch. When you arrive, find a place to work where you won't be distracted and familiarise yourself with the relevant staff members and facilities.
"Remember that if you're a working couple, you won't just need sufficient workspace for the both of you, but also entirely separate spaces to conduct meetings at the same time," warns Rajgopaul.
Also, don't go for that epic bucket list spot. You'll be grinding your teeth while trying to work, thinking of all the adventures you're missing out on!
Keep it professional
It can be easy to let your professionalism waver when you're on a workcation, but this could have a devastating impact on your career. Dress appropriately during virtual meetings (no bikinis or speedos required) and keep the background noise to a minimum. You're still being paid for your work, so be responsible and treat your employer with respect. If you can't tear yourself away from an activity, respond when you're able.
That being said, you need to set time aside for leisure; otherwise, you run the risk of just being cooped up in your workspace. Determine the hours you'll need for work and play and make the most of them.
Everything you need at The Maslow Sandton
Man working from the Maslow Sandton | Image by Sun International
The Maslow Sandton is the perfect workcation destination. Situated in the richest square mile in Africa, The Maslow Sandton is a magnet for business travellers, with all the facilities, technology and intelligence in place to help secure those big deals or bring out the best in the modern professional. These include complimentary high-speed internet access throughout the hotel and ample meeting rooms. 
The Lacuna Bistro offers the fine dining experience you need to impress at a power lunch or savour a high tea or gourmet breakfast. And when you're off the clock, get sweaty at the techno gym, be pampered at the Africology Spa, relax poolside, or take a complimentary shuttle to one of the high-end malls in the area. Inspired by Abraham Maslow's hierarchy of needs, The Maslow has everything you may require as a business traveller and beyond to suit the entertainment needs of any family.