Lifestyle | 18 Dec 2014 | By Sun International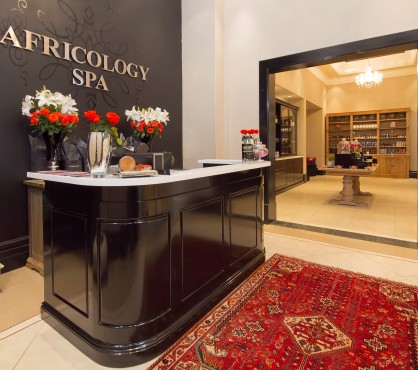 Spa Spoils for Kids at Africology Spa
Who says spa spoils are only for adults? Share the love and take your child to Africology for a full range of spa treatments for kids. The Africology Spa at The Maslow Hotel in Sandton and The Boardwalk Casino in Port Elizabeth offers a cute menu of pampering treats for small people, like Little Bee Facials and Bubblegum Massages.
Africology's spa treatments use only natural ingredients that are gentle on children's sensitive skin and blended with yummy extras like honey and chocolate. They've translated their earth-friendly philosophy into child-centric packages that not only pamper little ones, but educate them about looking after the environment too. Your gorgeous glamtot will leave the Africology Spa feeling refreshed, informed and glowing with natural health.
Here are some of our favourite Africology spa treatments for kids:
After sun skincare
If you're holidaying at the Boardwalk and have spent a little too much time in the sun on one of Port Elizabeth's glorious beaches, the Honey Bee After Sun Cocoon will take care of your child's skin.
This soothing 35 minute treatment combines pure honey with aloe ferox to take away the sting of too much sun exposure. It rehydrates, repairs and protects delicate skin.
For chocolate lovers
Do not try this at home! This may be the only time you let your tot soak herself in chocolate. The 30-min Choco Boo treatment for hands and feet is a sensory experience that combines a revitalizing exfoliation session with a purifying mask.
The delicious Choco Boo treat gets wrapped up with a coconut oil and honey massage. Yum.
For little fairies
It's official. Africology is the only spa that has access to magical ingredients. Using stones and dust straight from fairyland, the 45 minute Fairy Stone Massage will relax your little one while she dreams Once Upon a Time dreams in Faraway Lands. Those fairies know their stuff, too. The special combination of plant actives and oils is not only calming, but hydrates thirsty skin.
Psst: This treatment ends with a shimmering lather of sparkling fairy dust.
Sleepy feet for overactive children
Moms, take heart. The 20 minute Sleepy Feet treatment at Africology blends chamomile, lavender and other island flowers in a gentle and soothing foot massage. It's a sure way to calm busy minds, and will help to give your child (and you) a good night's sleep.
For sweet little honey bees
Just like mom. Treat your cute little copycat to her own facial. Africology's 20 minute Little Bee Facial starts off with a gentle cleanse, followed by a soothing honey and coconut facial massage. She'll get a facemask too (just like you), made from oats, rooibos tea, and cornstarch, and will leave with nourished and sun-protected skin.
The Coconut Cocoon
The ultimate spa spoil for tots, the Coconut Cocoon is a 45 minute relaxing body massage. Let her choose her own delicious flavour: strawberry, vanilla or bubblegum? This healing massage ritual is deeply relaxing, and cares for both the skin and hair. It's an especially good choice for the summer months, as it heals overexposed skin and offers protection from the sun.