18 Dec 2014 | By Sun International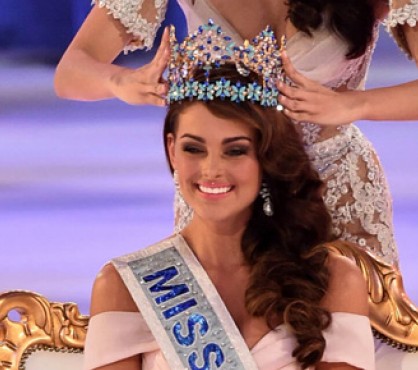 Rolene Strauss' Miss World 2014 Winning Outfits
Oscar Wilde once said "you can never be overdressed or overeducated." It seems that the newly crowded Miss World 2014, Rolene Strauss took these words to heart. A 4th year medical student with an impeccable sense of style and grace beyond her 22 years, Rolene Strauss is the ultimate personification of brains and beauty.
That bright and fascinating national costume:
Donning a daring national costume designed by students from the Cape Town College of Fashion Design (CTCFD), Rolene surprised judges with a bold outfit that was made with heart.
Inspired by the late Nelson Mandela, the dress proudly displays the image of Madiba as the focal point. An ambitious attempt to capture the diversity and spirit of South Africa, the costume also features Ndebele and Zulu beading and diverse images reflecting the soul of the country.
Tip: To watch Rolene's Miss World 2014 introduction, click here.
That stunning mint green opening outfit:
Wowing the judges and the crowds from the very beginning, many claim that the crown was hers as soon as she appeared on stage in her breath-taking opening ceremony costume.
Meticulously crafted by Bloemfontein designer Casper Bosman, the hand-dyed mint green gown was made from delicate lace and embellished with 13 000 Swarovski crystals. As if that weren't enough, the dress was also adorned with pearl embroidery and sequins... If you didn't manage to catch the beginning of the pageant, think of it this way: in the words of Mae West "too much of a good thing can be wonderful".
The stunning pale pink gown
Securing the crown with an off-the-shoulder closing ceremony costume, Rolene looked every bit the global icon she is sure to become during her reign as Miss World 2014. Once again designed by Casper Bosman, the diagonally draped creation was inspired by the unmistakable blush of a barely pink rose. Made with 45 meters of hand-dyed silk organza, the bandage-style dress was nearly as beautiful as Rolene as she took the stage one last time before being crowned Miss World 2014.
Tip: To see more photos of Miss World 2014, Rolene Strauss, click here.