29 Dec 2020 | By Sun International
Plan the perfect city wedding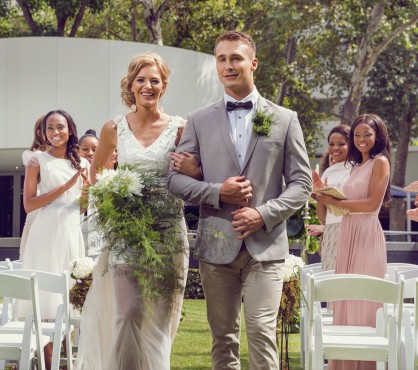 Bride and groom | Photo by Supplied
Rustic weddings on the outskirts of town are all the rage, but if you want to host a wedding that your guests won't easily forget, consider staging it in the city.
Remember the wedding scene in Sex in the City? Rush-hour traffic, pedestrians and time standing still as Carrie Bradshaw (played by Sarah Jessica Parker) steps out of her limousine onto the steps of the historic New York Public Library, resplendent in a custom Vivienne Westwood wedding gown. Had the twice-divorced groom not got cold feet, the Sex in the City wedding would have been immortalised in cinematic history as one of the most magical of all time.
There is something quite glamorous and memorable about using atypical venues, like a bustling financial district, as the backdrop for your big day. Picture stopping traffic – literally – by taking a wedding photo on a zebra crossing, hailing a minibus taxi in your wedding dress, standing out among a sea of suit-clad businesspeople on the steps of the Johannesburg Stock Exchange, or simply looking adoringly at each other against a glorious Sandton sunset.
Memorable wedding shoots are just one of the many reasons city weddings in South Africa are growing in popularity. A city wedding hosted at a stylish venue also means ease of access to the venue, luxury wedding accommodation, reduced transport costs, convenience and ample facilities.
Convenience galore
Nono Skosana of Nono Events says you should explore wedding venues in the city to prioritise convenience and cost. "Planning a wedding is much easier when everything is nearby; service providers such as florists, photographers, caterers, wedding stationers and deco companies are mainly city-based."
Skosana, who has planned several high-profile weddings like Somizi Mhlongo and Mohale Mogale's nuptials, says this will positively impact your wedding expenses, as you minimise transportation fees, which can be exorbitant for weddings held at rural venues.
Guest comfort and accommodation
"We all know weddings involve friends and families arriving from afar," Skosana says, "You should consider a venue that has plenty of rooms." City venues, like a hotel in Sandton, will have ample rooms to accommodate your guests, unlike the limited number for out-of-town weddings. If guests choose not to stay at the venue, they can also drive home safely or use an Uber and avoid navigating dirt roads late at night.
City weddings also offer your guests the opportunity of turning the occasion into a holiday. With so much to do in the city, they might stay awhile.
Flexible spaces and world-class service
A city wedding venue offers flexibility. For example, suppose you choose a hotel. In that case, you can say your vows in a private, idyllic garden and then proceed to your reception inside the hotel. Hotels in the city are designed to meet the needs of discerning local and international travellers. You will be guaranteed world-class dining and services to ensure your guests are having just as much fun as you are.
City wedding checklist
When scouting for potential wedding venues in Johannesburg, consider a venue that ticks all the boxes and aligns with your needs and visions of your big day:
A central venue close to all major suppliers
Luxurious accommodation for the start of a perfect honeymoon
A flexible venue that can cater for indoor or garden ceremonies
A living backdrop that is bound to provide a wide range of photo opportunities
A venue with world-class catering
Say "I do" to The Maslow
Centrally located in the Sandton financial district, but insulated from its the hustle and bustle, The Maslow Sandton offers an array of elegant venues and rooms that can be easily transformed to suit. Weather permitting, you can say your vows in the private and plush gardens and then proceed to the reception in one of nine venues that can seat up to 400 guests.
Your guests can also look forward to world-class dining. One of the best hotels in Sandton, The Maslow has a team of top chefs that will create an unforgettable culinary experience, from gourmet canapés to a three-course feast that will wow your guests. Our talented barmen will create bespoke designer cocktails to ensure even the most cynical guest will have fun and create lasting memories of your big day.