13 Jan 2015 | By Sun International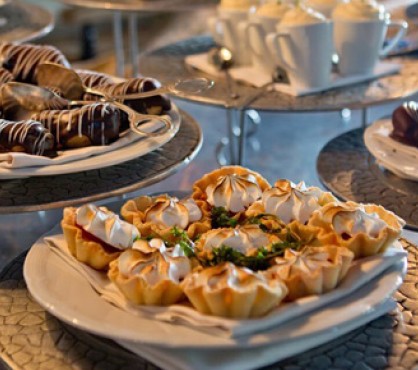 There's a New Pastry Star at the Royal Livingstone Hotel
As one of Zambia's top hotels, the Royal Livingstone Hotel is renowned for its enticing cuisine and graceful ambience. This Zambian hotel has recently appointed a new Pastry Chef to bring a new twist to many of the mainstay treats on the restaurants' menus.
We caught up with Nathaniel Collins, to find out more about the man behind the melt-in-your-mouth pastries.
Q: Nathaniel, your arrival at the Royal Livingstone Hotel has guests excited to taste your creations! What are you most looking forward to as you join the team at the hotel?
A: I have a good team behind me who are really looking forward to improving themselves. I'm looking forward to introducing some fresh ideas to the pastry menu and having a great year creating delicious treats!
Q: Tell us where you studied and where you worked before your appointment to the Royal Livingstone.
A: I completed my pastry studies at the Hotel School of Mauritius over 2 years. I have since worked in 5-star hotels in Mauritius and spent time honing my craft in Bermuda and the Seychelles.
Q: As part of your appointment to the Royal Livingstone, you've relocated to Zambia…
A: It's my first time on the African continent so it will be an opportunity for me to get acquainted with the local people and cultures, and to discover local ingredients to use in dishes. It's also a chance for me to take in Victoria Falls and to enjoy a game drive. I hope I see some of the Big Five!
Q: The High Tea is a signature part of the menu at the Royal Livingstone. Can you let us in on any secrets you've got planned?
A: For the High Tea Menu, I am working on introducing new varieties of petit fours, tarts and new cakes that that I am sure the guests will be delighted to taste. Some of the new pastries were introduced during the festive season and others are yet to be unveiled – I can't tell all my secrets just yet!
Q: What's the most important piece of advice you would like to pass on to aspiring pastry chefs?
A: Stay focused when at work, be responsible and try to get creative. The rewards of your hard work are not always immediately visible to you but hard work is always worth it in the end.
Q: What is your favourite dessert creation?
A: My favourite dessert is an entremet called the Tout Café. Why? Because it is created with a variety of flavours and ingredients, including a Baileys Cremeux, Mascarpone Cheese Mousse, a chocolate biscuit and a nutty Croustillant. It's a slice of heaven you can eat!