18 Dec 2014 | By Sun International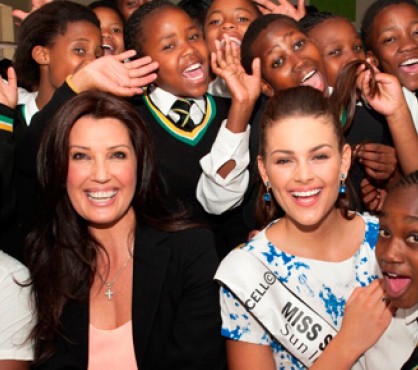 Miss World 2014 is Committed to Keeping Girls in School
Health and education. This is what drew Miss South Africa (and now Miss World), Rolene Strauss, to the Always Keeping Girls in School programme as her official Beauty with a Purpose project – an initiative with Proctor & Gamble and Always.
Rolene, who is a 4th year medical student, says that ever since she was a little girl following her father on his hospital rounds, she's wanted to make a difference through healthcare.
Founded by Julia Morley in 1972, Beauty with a Purpose has raised and donated millions in aid of disadvantaged children across the world. Every year, Miss World contestants (with the help of their Miss World National Organisations) set up Beauty with a Purpose projects in more than 100 countries. This gives tens of thousands of young women the opportunity to use their abilities to make a real and lasting contribution to the lives of the sick and disadvantaged and bring about positive change to communities in need.
Rolene's Beauty with a Purpose project, Always Keeping Girls in School, recognises that for many girls from impoverished backgrounds, the onset of puberty marks a sharp decline in school attendance and could even lead to their dropping out of school completely.
"These are things that happen all around us in South Africa," Rolene says in her official Beauty with a Purpose presentation video. "Sometimes girls don't go to school because they're ashamed of what's happening to them. Sometimes they don't go because they don't have any sanitary towels."
Because they are unable to afford sanitary protection and because they don't understand what is happening to their bodies, what should be a celebration of womanhood becomes a time of shame, embarrassment and stigmatisation with dire consequences for the girls' education and consequently their futures.
"Just imagine, a girl who doesn't know what is happening to her body during puberty, how unsettling that can be, how damaging to her self-esteem, her education, and her dreams?"
The objective of the Always Keeping Girls in School campaign is to empower female learners and to keep them in school through providing them with puberty education, sanitary protection, access to educational resources and motivation to plan for their future.
"We are giving them education around hygiene, around puberty, and giving them sanitary pads," says Rolene. "We're also giving them the right to go to school and educate themselves, so that they can spread their wings and fly, and reach for their dreams."
This project has reached 300 000 girls in 56 schools, across all 9 provinces in South Africa.
You can watch the video about Rolene's Beauty with a Purpose project here.