31 Mar 2015 | By Sun International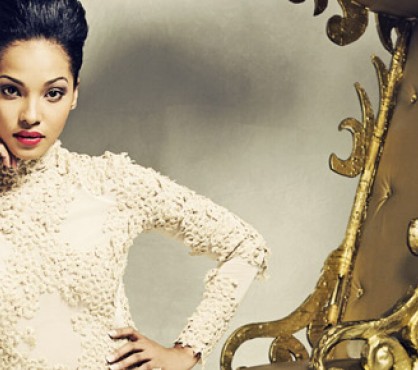 Meet Liesl Laurie, the New Miss South Africa 2015
At only 24 years old, Liesl Laurie is the most beautiful woman in South Africa after being crowned Miss South Africa 2015 on Sunday night at Sun City. The University of Johannesburg B.Com graduate slash model from Eldorado Park wowed the judges and the audiences, living up to her mantra: "I will never fit in because I was born to stand out!"
Did you know? Our new Miss South Africa loves seafood and sweet things. Her favourite foods include sushi, prawns and cinnamon buns.
The annual national pageant, which began in 1956, celebrated its 59th year on Sunday night with the newly crowned Miss Laurie saying, "I am ready for the responsibility that has been placed on my shoulders" in her teary acceptance speech.
Crazy about Liesl Laurie's winning make-up? Click here to watch her Miss South Africa make-up tips.
Between studying and working as a model, Liesl has worked with a number of non-profit organisations including Babies Behind Bars and Pilgrim Oasis Community Children's Outreach. She has also established her own non-profit organisation called The Pearl Project that strives to inspire young girls by providing educational workshops. Passionate about community service and working with young people, the former Miss Soweto princess says that she hopes her title will inspire others to "rise to the challenge of building a better and brighter future as young South Africans".
Did you know? Liesl was inspired by Charlize Theron's community outreach when starting The Pearl Project.
"It doesn't matter where you come from, all that matters is where you're going." That's what Liesl said during her Top 12 interviews and now, with the crown on her head, she's proudly living by example. With plans to travel the country high on her agenda in her acceptance speech, Liesl said: "I look forward to exploring our beautiful country, to see its beautiful landscape but most importantly to connect with its people. I am proud to stand here as an ambassador of South Africa and my fellow South Africans."
Click here and see our Miss South Africa's perfect camera smile at the end of this clip.
Liesl names her grandmother and mother as her inspiration and with her 2015 reign just beginning, she's sure to become an inspiration to many young girls and women. It seems that that was her plan all along, with the multitalented beauty saying, "I want every person to see a little bit of themselves in me. Being an inspiration and a beacon of hope is what I strive for. I want each person to look at me and remember that one can be as great as you want to be. If you believe in yourself and have the courage, the determination and the dedication you can achieve anything."
Tell us: did you watch the Miss South Africa 2015 contest at Sun City? Who were you rooting for?