Lifestyle | 21 Oct 2014 | By Sun International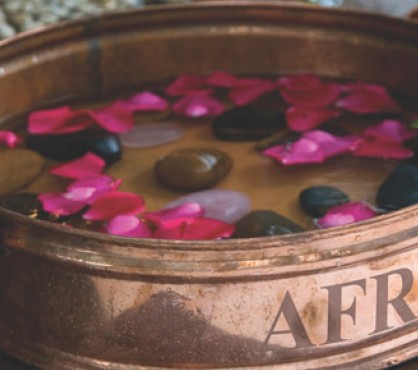 A Magical Copper Pedicure at The Africology Spa
The ancient tradition of pedicures
For more than 4,000 years people have been giving and receiving pedicures. During the Ming Dynasty in China, nail colour was not just for embellishment, it was a symbol of social status. In Egypt, archaeologists discovered a pharaoh's tomb that clearly depicts what is arguably the world's first pedicure.
Anyone who has enjoyed a pedicure can understand why this practice dates back centuries. Relaxing, pampering and invigorating, a pedicure treatment is a welcome escape from the aches and pains of your daily routine.
With pedicures being so commonplace lately (every corner salon seems to offer some sort of a pedicure) the importance of restorative magic and the healing powers of a pedicure seem to have been forgotten. What should be a blissful hour of relaxation and rejuvenation is often just a rushed hour of scrubbing and polishing with the distinct smell of chemicals in the air. What should be a treatment has become a procedure.
Put the healing power back in the pedicure
A visit to the Africology Spa in The Maslow or The Boardwalk Hotel for the famous copper pedicure is the perfect way to experience this time-trusted tradition of pampering, properly.
Derived from the Latin word "pedis" meaning "of the foot" and "cura" meaning "care", Africology's copper pedicure is a pedicure in the true sense of the word that harnesses the magical power of copper therapy to kick up your relaxation and rejuvenation levels. But be warned… Once you have experienced the pure pleasure of an Africology copper pedicure, the corner salon will never do.
Let's walk you through your Africology copper pedicure…
Your relaxing hour begins in a serene environment specifically tailored to shut out the hustle and bustle of the outside world. Anyone who has had the pleasure of visiting an Africology Spa enthusiastically notes the immediate sense of peace that washes over even the most frazzled of visitors. With the smell of natural essential oils wafting in the air, your nose will be the first to know that you're in for an amazing experience.
There you will meet your therapist who is an expert in the art of relaxation. From the get-go it becomes clear that this isn't just about a quick scrub and paint. Your therapist will personalise each pedicure with thoughful use of products that are all carefully handmade in South Africa. Each batch is unique and imbued with a bit of magic - organic, natural, animal-friendly and chemical-free, the Africology product range is a proud manifestation of the uncompromising ethos of Africology.
Did you know? Copper is known as the "healing metal" or the "lucky metal" due to its extensive health benefits.
Once your therapist has selected your unique products, your feet will be washed and treated in the famous copper baths. The healing power of copper seeps into the water and your feet will already feel rejuvenated and soothed. Proven to assist red blood cell formation and wound-healing, copper also provides a natural boost to the wellbeing of your connective tissue, hair and skin.
Following your healing copper bath, your feet are exfoliated, moisturised and perfectly adorned with your selection of gorgeous, safe, animal-friendly and chemical-free nail polish.
Beauty tip: Remember to pack your sandals! That way, you won't smudge your beautiful, fresh polish.
So what are you waiting for? Book your own Africology Copper Pedicure today! Open every day from 9am there's simply no excuse not to pamper yourself.
For more information contact:
The Africology Spa at The Maslow: (011) 783 3248