Lifestyle | 22 Sep 2014 | By Sun International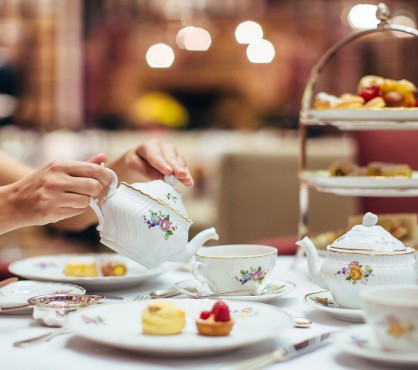 High Tea at Boardwalk
Take your tastebuds on a high tea adventure
The most popular beverage in the world, second only to water, tea drinking was not always so widespread. The first recorded tea-drinkers were the Chinese in the 10th century. Charmed by the medicinal properties of tea, Laozi, an ancient Chinese philosopher, claimed tea to be an essential ingredient in the elixir of life. It was only in the 16th century during the Portuguese exploration of the Far East that tea was traded with the West, and thereby introduced to the rest of the world. By the 19th century, tea drinking in Britain was no longer the preserve of the upper echelons of society; people across all social classes took to the habit of enjoying a daily cuppa.
Did you know? Although most people enjoy classic black tea, there are actually three other traditional forms of tea: white, oolong and green tea.
The colonial tradition of high tea elevated the daily ritual of tea drinking above the boring and routine. It's believed it was first introduced by Anna, the Duchess of Bedford, as a solution to her "hunger spells" before dinner. Traditional high tea consists of dainty sandwiches, scones with clotted cream and jam, sweet pastries and of course, tea.
Sun International's Sunlux Collection is an awe-inspiring celebration of African luxury. A beautifully curated golden triangle of five-star hotels including Cape Town's iconic Table Bay Hotel, Sun City's opulent Palace of the Lost City, Gauteng's The Maslow Sandton and The Maslow Time Square and Port Elizabeth's Boardwalk. It is no surprise that all of these magnificent hotels have mastered the intricate art of high tea.
Some etiquette tips before you embark on your high tea adventure:
Cream before jam when it comes to scones, and tea before milk or lemon (never both) when it comes to preparing your cup.
Don't place your napkin on the table unless you ready to end your tea session. If you need to leave briefly, simply place your napkin on your chair.
Before embarking on your unforgettable Sunlux adventure, we suggest that you start your journey in the City of Gold at The Maslow. Described as a modern oasis in the buzzing financial district of Sandton, The Maslow is an elegant, sophisticated and glamorous sanctuary for all travelers.
The Maslow's Lacuna Bistro specialises in a unique high tea experience that beautifully captures the elegance of the tradition complete with pastel-colored petit fours, freshly baked scones with homemade preserves and diet-destroying cheesecakes.
Chef's tip: For those with a subdued sweet tooth, the savory selection of homemade mini quiches and tarts is not to be missed.
The Maslow high tea experience also features several blends of premium tea, notably including green tea infused with Japanese cherry blossoms and rooibos tea flavored with zesty oranges and sensual spices. There's even a unique, exclusive Maslow blend for you to try as well. To secure your own decadent Maslow high tea experience, call: + 27 10 226 4600.
High tea at the Table Bay Hotel
Although it is served to perfection daily, high tea at the Table Bay Hotel makes every day feel like a special occasion. Take your seat in the tranquil Table Bay Hotel Lounge and prepare your tastebuds for a scrumptious journey to a bygone era where tea without scones was considered as ridiculous as a meal without a fork.
Chef's tip: Overseas visitors must try the moreish malva pudding, a classic South African dessert that is perfectly complimented by another South African delight, rooibos tea.
With stunning views of Table Mountain, the V&A Waterfront and the architectural charm of the Cape Town CBD, The Lounge is the perfect setting for a decadent afternoon of indulgence. With so many sensory thrills to enjoy, it is only natural if you find yourself in a celebratory mood. If you would like a naughty accompaniment to your tea, remember that there is a selection of award-winning sparkling wines and champagnes available too.
Did you know? The Table Bay Hotel recently partnered with TWG Tea, the finest luxury tea makers in the world. This partnership means that the already-incredible Table Bay high tea experience has been lavishly upgraded to include several themed selections of tea.
To experience Cape Town's best high tea experience, contact the Table Bay Hotel at: +27 21 406 5988.
High tea at the Palace of the Lost City
Fusing old-world charm with a uniquely African setting, the Crystal Court Restaurant at Sun City's the Palace of the Lost City is the host of one of the most unique high tea experiences in Africa. Along with a tempting buffet of sweet and savory treats, including homemade preserves to accompany the obligatory scones, guests can expect the gentle tinkling of a grand piano competing with the tranquil sound of cascading water.
Chef's tip: Come hungry! Loyal guests have noted that it is simply impossible to try just one freshly baked raisin scone.
An essential experience for tea connoisseurs, high tea at the Palace's Crystal Court includes a selection of 19 different teas, including the oolong green tea that is considered the "champagne of teas". To book to your royal high tea experience at the Palace of the Lost City call: +27 14 557 4301.