Lifestyle | 22 Apr 2021 | By Sun International
Can a hotel stay revitalise your relationship?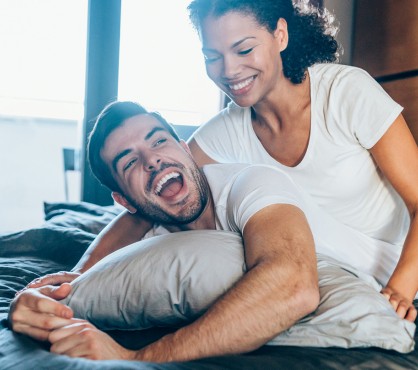 Couple at a hotel | Photo by Getty Images
Creating your own testament to love at Sun International's Time Square might just be what you need to revive a flagging relationship.
With busy lives filled with long to-do lists and financial and parenting obligations, many couples struggle to find time to connect. And when that happens, intimacy is often the first casualty.
Psychologist and author Esther Perel explains that once couples settle into marriage or a domestic partnership, expectations often change. The wild passion that once characterised the relationship is replaced by the need for a best friend. Perel warns this change produces huge pressure and is often a killjoy that smothers bedroom fires.
Johannesburg-based psychologist and marriage counsellor Brian Blem says sex is the ultimate de-stress tonic for both men and women and is extremely important in a marriage. "Marriage can feel like an uphill struggle. Amid our busy lives, it's important to put in time to build trust, love, and intimacy. And love follows trust. This means connecting physically by spending time in one another's company, and engaging in a range of activities, both sporting and recreational," says Blem.
All is not lost, however. No matter how long loving partners have been together, as long as they are willing to put in a bit of work, they can recover their intimacy and bring back the spark…
Tip 1:Book a hotel room
According to destinationtips.com, a change in environment leads to lovemaking of a better quality. The experience of a new place releases dopamine – a neurotransmitter that plays a role in how we feel pleasure. Check-in to a hotel and you escape the daily grind, ready to enjoy an intimacy heightened by being in a clean, luxurious room with fresh sheets (that you don't have to make up afterwards) and amenities.
Once you've checked in, be careful not to load yourself down with the pressure to perform.
If, like most couples, you find yourself stuck in a rut of daily chores that has choked your love life, the answer may be as simple as booking a holiday. American marriage and family counsellor Christie Tcharkhoutian advocates going on vacation as a remedy for a failing relationship. "Often, couples find they are living lives in parallels, but just being together in a beautiful place creates an opportunity to face each other and reconnect," she advised on nbcnews.com.
Once you've chosen the hotel of your choice for your much-needed time away, make a point of learning or relearning each other's "love language". This will help you connect meaningfully and for the outing to best serve both your interests, advises Dr Gary Chapman, an American marriage counsellor and author of the best-selling The Five Love Languages: How to Express Heartfelt Commitment to Your Mate. Chapman lists these love languages as words of affirmation, quality time, gifts, acts of service, or physical touch.
Rediscover pleasure at Time Square
Inspired by Abraham Maslow's hierarchy of needs that places love and belonging at the centre of the pyramid of human needs, The Maslow Time Square in Pretoria is a perfect setting for any couple seeking to bring back intimacy. It caters to all the senses through world-class cuisine and a wide choice of luxurious rooms, where you and your partner have access to attentive staff who will make your intimate getaway extra-special.
Get your baecation off to a fun start at the casino. With over 1 750 slot machines and 60 casino tables, Time Square is Gauteng's largest casino with everything for everyone looking for the thrill of a win. When the hunger – for food, that is – hits, there are over 15 outlets to dine out, including Rockets Menlyn and Guy Fieri Kitchen + Bar.
Until the end of December 2020, take advantage of Time Square's Date Night special offer, which includes accommodation and breakfast, dinner for two at Forti's Restaurant, decadent French dessert served in your room – don't forget that "do not disturb" sign! Complimentary late check out at 4pm is also included, subject to availability.
Once you've checked in, be careful not to load yourself down with the pressure to perform. Relationship expert Dr Juliana Morris says while new smells, sounds, lighting and textures in a tidy hotel room, away from everyday life, will help keep a couple's sex life firing, she warns against approaching your baecation with sex as the ultimate goal. Speaking to O magazine, she recommends couples check-in and look forward to talking, relaxing, and bonding, while being open to where the intimate time together might take them.