Lifestyle | 16 Dec 2014 | By Sun International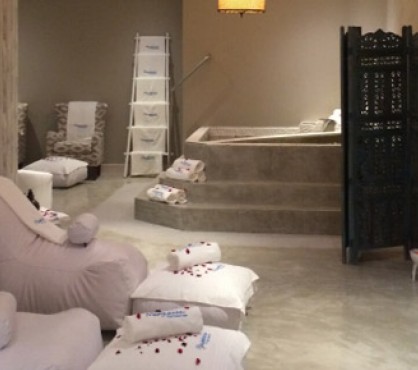 Revitalised by the Spirit of Africa at Mangwanani Spa
Indulge your senses from head to toe at the Mangwanani Spa.
 Harnessing the rejuvenating power of Africa, the Mangwanani Spa will treat you to the healing secrets that have been passed down from one generation to the next. You'll feel like you're African Royalty.
Whether you're at the Sibaya Casino and Entertainment Kingdom or the Wild Coast Sun, make some time for yourself with a quick treatment at these affordable day spas, or indulge in the full Mangwanani African Spa experience.
No frills, all the fuss
Mangwanani's standard packages have been designed to provide pure relaxation in a sumptuous setting. Depending on the pampering you need, choose from full day, half day or evening spa experiences.
The African Revitalization Day Spa experience combines meals and cocktails with 7 luxurious treatments, including a facial, body treatment, and full body hot stone massage. Make it a magical night out with the Moonlight Night Spa, in which you're treated to cocktails, dinner and traditional African entertainment as well as 3 decadent treatments.
The extravagant experience
Mangwanani's premier packages let you extend the spa experience by taking home special gifts (like high quality gowns and spa products) from your day of pampering.
The Shwe Shwe Experience will invigorate your mind, body, and soul with 7 luxurious treatments (all with a unique African twist), cocktails, meals, a full complimentary bar and a deluxe gift package. If you're looking for an exotic experience at one of Mangwanani's spas in Durban or Port Edward, opt for the Moroccan Premier Experience, which is infused with the textures and aromas of North Africa (think mandarin and desert salt exfoliating scrubs, and frankincense body butters).
If you want to make it truly memorable, the exquisite African Premier Experience is a no-holds-barred luxury day that'll surpass your most decadent spa spoils fantasy. Besides the 7 pampering treatments, you get a gift hamper that includes a plush white terry gown and a sumptuous Mbali Range product gift pack.
Celebrate special moments
Do you have something to celebrate? Mangwanani's special occasion packages will make your bridal shower, birthday, or anniversary a memorable experience. We love the Mom and Daughter package, which will give you some quality time together in a lush African setting. The spoils include 2 treatments and a gorgeous Netflorist hamper.
Make it a high tea experience. Mangwanani puts an African spin on an old English favourite by combining ethnic décor with 2 sophisticated treatments. And don't forget the gorgeous selection of teas and pastries.
Treat your tot or your teen
Mangwanani's Teen and Kids Spa Packages have been specifically designed to suit the unique needs of growing tots and picky teenagers. These fun experiences use only natural ingredients, and are designed to encourage love, care and nurturing.
Treat your preggy belly to some spa spoils
If you're expecting, a day spent at Mangwanani Spa will leave you feeling like you're Mama Africa. Deeply relaxing, the Mangwanani Expectant Mom package includes 3 pregnancy-safe treatments that are designed to gently pamper and relieve stress. Plus, you'll have some quiet bonding time with your future baby.