26 Nov 2014 | By Sun International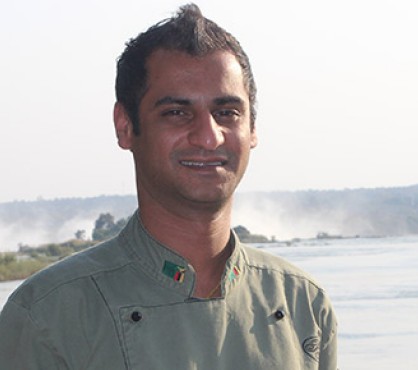 Anuj Ovaleker Adds New Flavour to the Royal Livingstone Menu
There's a new flavour in town at the Royal Livingstone. Anuj Ovaleker is spicing things up with fresh, international dishes on the menu, plating up tastes from around the world and taking you on a culinary round trip without leaving your table at the edge of the mighty Victoria Falls.
Here's a little bit about the new Chef Du Cuisine, and what you can expect from his revamped menu while on holiday in Victoria Falls:
The first Indian Chef Du Cuisine
Arguably one of the finest hotels in Zambia, the Royal Livingstone already has a reputation for being a good food destination. Now, with Ovaleker at the helm, there'll be a whole new world of tastes on offer. He is the Victoria Falls hotel's first Indian Chef Du Cuisine, and brings with him extensive international experience.
Bite into this: Anuj Ovaleker was the first Indian sous-chef at the Royal Livingstone too, when he was appointed in 2008.
The new menu will make you feel right at home
Expect a simplified yet tantalising menu made up of flavours from across the globe. If you're on holiday in Victoria Falls and suffer a sudden bout of homesickness, Ovaleker's Indian, European, Mediterranean, Chinese or African dishes will give you the familiar tastes of home.
Together with the Victoria Falls hotel's executive chef Alexandre Coupy, Ovaleker has successfully introduced 3 exciting new dinner menus that change daily. This means that as a guest, you'll have a choice of over 30 starters and mains.
Bite into this: each dish is uncomplicated and exciting and invites you to explore flavours from the 4 corners of the world.
Insider tip: ask Chef Ovaleker to prepare you traditional Indian food and Jain meals
The new Chef Du Cuisine always asks his guests what they would like to eat, just as he would at home. The reason? He wants to blow you away with the kind of delicious meal he'd lovingly make in his own kitchen, and nothing means more to him than seeing you smiling after you've eaten his food.
Bite into this: one thing is for sure, when you stay at the Royal Livingstone, you'll feel at home.