Lifestyle | 10 Dec 2014 | By Sun International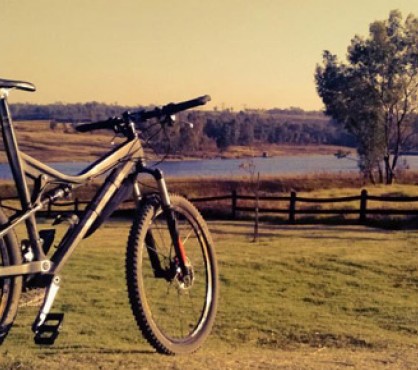 5 Mountain Biking Destinations in Gauteng
Are your wheels itching for new dirt? Why not go cycling in Joburg? Gauteng has the bragging rights to some of the hottest mountain biking trails in South Africa, and most of them within easy reach of your accommodation in Sandton at The Maslow Hotel. Here's our list of the best places to go mountain biking in Gauteng:
1. Avianto Trails in Muldersdrift
Whether you're a beginner or an expert, take your trusty 2-wheeled steed to Avianto for trails between 6km and 17km through the Muldersdrift countryside.
The trails feature a beginner green loop consisting of mostly jeep track and dirt roads, which offers a great introduction to mountain biking. The intermediate blue route is 80% single track, well maintained and features some challenging sections with tough climbs. There's also a section that follows an old train track through a tunnel.
Good to know: The route is never more than 2km from the clubhouse.​ Bring the family along for a picnic beside the river. There is also bar and braai facilities, tennis courts, a swimming pool and kids play area.
2. Central Park Trails in Modderfontein
Just around the corner from your accommodation in Sandton, the Central Park Trail system offers you an outdoor experience on a closed loop through the Modderfontein Nature Reserve. In fact, there are several loops here, ranging between 10km and 35km, depending on your skill levels.
All trails begin at the Modderfontein Sports Club, where you'll set off through the security gate on a roller coaster ride through the forests, across rivers, and around the property's 6 dams. There's a variety of game and bird life too.
Good to know: On the longest loop, you'll climb approximately 480m. Enjoy a coffee afterwards at the coffee shop.
3. Vlei Park Trail
No matter what your fitness level or skill, there's a trail with your name on it here. The trails were designed with the goal of being 80% achievable by 80% of riders. If you're part of the remaining 20% that's looking for an adrenalin rush, you'll find it on the Black Trail – a guaranteed tough challenge that you may only tackle "at your own risk".
Enjoy nature as you ride through the forest and take in the abundance of bird life and regular sightings of small animals.
Good to know: For novices, hit the 4km trail. Seasoned pros will get their kicks on the 18km trail. Picnic facilities are available at The Shack.  Rietvlei Zoo Farm also has a number of other facilities including a children's petting zoo.
4. Rosemary Hill Trails
Head to Rosemary Hill Farm near Pretoria for trails ranging between 6km and 18km. Here you'll cycle through aromatic rosemary fields, past dams, across streams and through forests and grasslands. This is also the home of the monthly ASG Night Rider Series, and includes some of the best single tracks around.
Good to know: Rosemary Hill Farm offers a nursery and delightful tea garden.
5. Bass Lake Track
Set on a 75 hectare estate along the Klip River in Henley-on-Klip, this is a 9km trail for both casual and experienced riders, with some good obstacles to test your technical skills. You can also extend your ride by backtracking over certain areas.
Good to know: Bring the family along for some swimming and kayaking in the old quarry, the centerpiece of the venue
Tell us: have you ridden any of these trails?