Latest News | 19 Feb 2021 | By Time Square
Time to Square off at Gauteng's top casino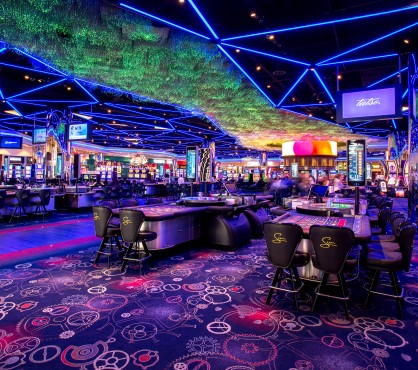 Time Square casino pays out just under R10 million in winnings since 1 January 2021
R1.9 million for just a R50 outlay. Not bad for a few minutes work, right? One particularly lucky local punter at Time Square Casino took home just short of R2 million with a royal flush in a progressive game at the poker table. The winner, who preferred to remain anonymous, was obviously delighted with their jackpot win, which came not long into the New Year. But this is just the kind of gaming excitement we've come to expect from Time Square in Pretoria.
With jackpots, promotions, and a plethora of table games and slots, it's no wonder the Sun International hotspot is the province's premier gaming destination.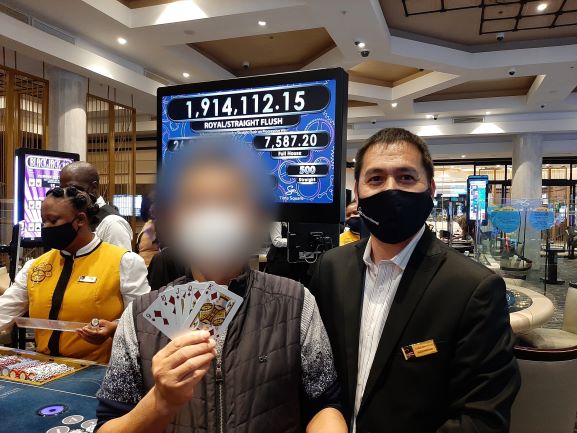 Time Square Casino Tables Manager Christopher Sin Hidge with a R1.9 million winner
The year got off to a good start for patrons, with the casino paying out just under R10 million in 39 jackpots of R25 000 and over.
The second-highest win was just under R1.3 million on a Duo Fu Duo slot machine progressive game, followed soon after by a R1.2 million win on the Inca Fortune slot machine in February.
"We offer an unparalleled gaming experience on a state-of-the-art casino floor. There's a slot game for every taste."
— Roshan Gunpath
Time Square Casino's Tables Manager Christopher Sin Hidge was pleased with the early payouts and looking forward to further windfalls.
"Our visitors all enjoy gaming, so the playtime is as important to them as winning, but in these times, who doesn't appreciate a jackpot? We are also finding that there is a growing interest in poker games, especially with the progressive jackpots and betting options," he said.
Ultimate gaming experience
So what exactly makes Time Square Casino such an appealing proposition for punters? "We offer an unparalleled gaming experience on a state-of-the-art casino floor. There's a slot game for every taste – from brand-new, innovative ones to the more familiar favourites," says Sin Hidge's slots counterpart, Roshan Gunpath.
"We're always working on expanding our range of slots. We also have mystery jackpots running all day every day, doubling your chances of being a winner!"
Sin Hidge adds that versatility is key to the Time Square mix, with "fresh and spacious" casino floors featuring a mix of non-smoking and smoking areas, with low-limit tables and exclusive private rooms for high-rollers.
Currently there is also a poker progressive jackpot on the main casino floor just short of R500 000 that is waiting to be won with a straight flush. And this is just one of the tantalising rewards that will be on offer for Time Square patrons and Sun MVGs in 2021, according to Sin Hidge.
"We are going to be tinkering with the floor layout, introducing a new version of poker, and opening our exciting Money Wheel, along with many small-scale promotions focused on our table players. It's going to be a fantastic year!"
— Christopher Sin Hidge
With South Africa still battling the COVID-19 pandemic, Gunpath reassured patrons that Time Square will continue to do everything possible to ensure their safety. "Safety is of paramount importance to us. We have strict COVID-19 protocols in place. We ensure that all touchpoints are frequently sanitised and have installed shields on adjacent slot machines and tables, assuring the safety of punters as well as our staff," explained Gunpath.
Want to join the aforementioned punter in the winners' circle? Then you'd do well to heed the sage advice of Gunpath and Sin Hidge, veterans of the gaming industry who know just what it takes to come up trumps.
On the slots front, it's in your best interest to know the rules of the particular machine. "You also need to bet enough to cover all the pay lines at least once. Always gamble responsibly and within your budget, and remember that gambling is ultimately a form of entertainment," said Gunpath.
Sin Hidge said punters should be mindful of their bankroll and look to maximise their enjoyment at the tables. "Play with what you can afford and don't be greedy – gaming should be fun!" he explained.
Sun MVG members have all the fun
Keen to try your luck at Time Square Casino? Then sign up to the Sun MVG loyalty programme. Under COVID-19 pandemic regulations, access to Sun International casinos is limited to MVG members for track and tracing purposes.
There are a host of benefits that come with membership, from accommodation discounts to earning your invite to Sun International's Salon Privé, our exclusive casino for Platinum and Diamond MVGs.