Latest News | 11 Oct 2023 | By Sun International
Sun International celebrates the 2023 Arts & Culture Trust Nyoloha Scholarship Programme winners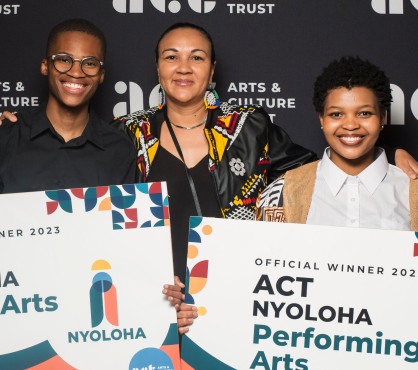 Sun International's Heidi Edson (centre) with ACT Nyoloha Scholarship Programme winners Azanda Nyangintsimbi (left) and Naledi Lebelo (right) | Photo by ACT
Sun International is a proud supporter of the Arts & Culture Trust, which awards two scholarships valued at R350 000 to study the arts
It was a night of glamour as sponsors Sun International and Nedbank, adjudicators, mentors, Arts & Culture Trust alums, members of the public, family and friends gathered at the Joburg Theatre's Lesedi Theatre on 7 October for the announcement of the winners of this year's Arts & Culture Trust (ACT) Nyoloha Scholarship Programme Performing Arts and Visual arts categories.
After months of mentorship, a week of arts workshops, rehearsals, and masterclasses, the fifteen finalists selected to possibly walk away with one of two fully paid scholarships valued at R350 000 to study for an arts degree at a South African arts institution of choice, waited with bated breath to hear who would be chosen.
Excitement mounted as Nyoloha adjudicator and well-known artist, curator and lecturer Gordon Froud took to the stage where he announced, to rapturous applause, that Azanda Nyangintsimbi (18) from Pretoria is the winner of the Nyoloha Visual Arts scholarship. The tension in the theatre was palpable as Jessica Denyschen, CEO of Arts & Culture Trust, called out the Nyoloha Performing Arts scholarship winner: Naledi Lebelo (24) from Bloemfontein. The pouring of congratulations and applause was electric.
"Last year, I was blown away by the highly talented Nyoloha finalists. But this year's group have lifted the benchmark to an unprecedented high level of superior performance and presentation of artworks," said Sun International Group Socio-Economic Development (SED) Specialist, Heidi Edson. "Our talent in this country is enormous but sadly mostly goes unrecognised or undeveloped.
"The ACT Nyoloha Scholarship Programme allows young, talented people to expand, develop and believe in their talents. Sun International is extremely proud and grateful to be part of the ACT Nyoloha Scholarship journey. We are elated for all the finalists and, of course, the two winning artists. We are committed to supporting the Arts & Culture Trust in their important and impactful work and look forward to growing this partnership."
Winner Azanda Nyangintsimbi was ecstatic. "This scholarship represents an essential stepping stone towards my educational and professional goals. It is not just about the monetary value to me; it symbolises faith in my potential and abilities. It's a sign that people believe in my dreams as much as I do and encourages me to keep pushing, striving, and growing.
"Winning this scholarship means I can focus more on my studies, expand my horizons, and become the best version of myself. I pledge to use this scholarship to pursue my academic endeavours with commitment. Thank you so much for investing in my future and making my dreams more achievable."
Naledi Lebo said her future is looking bright. "The scholarship means I get to study my passion, music. I am one step closer to becoming the artist I have always imagined myself to be. I get the chance to learn how to impact the hearts and minds of people through art. I cannot express how grateful I am for this opportunity. I am so humbled, honoured and incredibly blessed.
A night of winners
In addition, a year-long internship at Moving into Dance was awarded to Charaé Halley. The head of the Market Theatre Laboratory invited Nsizwazakithi Mvubelo, Nonjabulo Kubheka, and Thato Segodi, three performing arts finalists, to audition for a 2024 internship at the Laboratory. The 15 finalists received a goodie bag from MTN, and the scholarship winners also received a Huawei MatPad and Samsung gear.
Exceptional talent
The audience and exhibition visitors were suitably surprised by the finalists' quality, originality, and dedication to their respective crafts. Several well-known arts practitioners, such as award-winning actor David Dennis, remarked on the incredibly high standard of talent and artistic performances. The visual artists are exhibiting their works of art at the MTN Innovation Centre for the next two weeks, and we invite members of the public to lend their support by visiting the exhibition.
"The artworks, movement, dance, and song presented were touching and impactful while taking the audience on a different journey with each interpretation of this year's theme, Impacting Futures. Untapped talent abounds in this country, and it is only through initiatives such as the ACT Nyoloha Scholarship Programme and the commitment by our sponsors Nedbank, Sun International, BASA and MTN with support from members of the arts and culture industry that we can begin to develop futures for young artists and performers," says Jessica Denyschen, CEO of Arts & Culture Trust. "Congratulations to the finalists and the winners. We believe the life and creative lessons they have learned through the Nyoloha Programme will positively impact them personally and give them a platform to pursue their creative careers. We hope to one day see their names in lights."
About the ACT Nyoloha Scholarship Programme
The ACT Nyoloha Scholarship Programme is an undergraduate program that provides opportunities for school-leavers to pursue a tertiary qualification in the visual and performing arts. In partnership with Nedbank, Sun International, and the Market Theatre, ACT has offered scholarships since 2009. Following a two-year interruption due to the Covid-19 pandemic, the 2022 relaunch of the programme was introduced in partnership with long-term sponsors and partners of ACT, Sun International and Nedbank, as well as Business and Arts South Africa (BASA), under a new organisational strategy.
Through the programme, talented and ambitious young people from across the country are introduced to the world of professional arts through an intensive week of training, talks and performances, culminating in a showcase and exhibition. Working with industry professionals and experts, participants gain valuable experience and the opportunity to work with other future artists from different backgrounds. To find out more about the ACT Nyoloha Scholarship Programme, visit act.org.za/nyoloha.