Latest News | 29 Nov 2020 | By Sun International
GrandWest punter reigns supreme in Black Pearl roulette tournament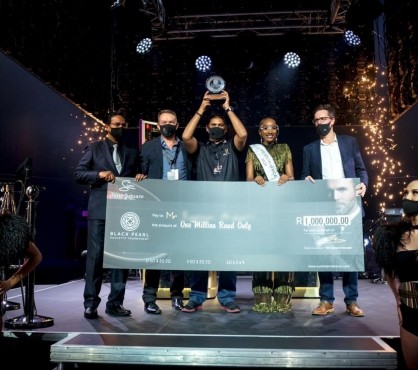 Sun International's biggest and best gaming tournament is back with a bang, with a 2020 champion crowned and over R2 million in prizemoney awarded on Saturday evening
Unflappable Capetonian Ray Adam edged out 51 other competitors to earn bragging rights – and a cool R1 million in prizemoney – after claiming the Black Pearl roulette tournament 2020 title on a thrilling evening at the Time Square Sun Arena in Pretoria.
It was the culmination of a painstaking process that began back in July when the groundwork was laid for the return of the Black Pearl nationwide tournament, which had been off the Sun International agenda for a few years. Free to play and exclusive to members of the Sun MVG loyalty programme, it attracted unprecedented interest, as punters from 11 Sun International properties all over South Africa did battle during the qualifying rounds, beginning in October.
On an evening when the legendary Mike Tyson returned to the ring, finalists swaggered to the roulette ring in boxing gowns, to boxers' favourite Eye of the Tiger and the Sun International anthem We Will Rock You, ready to go blow-for-blow, spin-for-spin. With just five of the 14 total spins completed, there were only two competitors left at the table: Adam and a rival representing Time Square.
After a barren spell of three or four spins, Adam was able to hold off the Pretorian and finish well ahead on chips. As the fireworks went off around him and the crowd got stuck into a celebratory Jerusalema challenge, the entrepreneur from Cape Town remained remarkably calm.
Adam says he was confident of the win from the start, as roulette is a game he knows inside out. He's travelled all over the world, playing – and winning – tournaments in the world's most renowned casinos and is coming off a big victory in Vietnam earlier in the year.
"I take a 'work hard, play hard' approach to life and it's helped me succeed thus far. I'm really happy with how well this Black Pearl tournament was organised and hope to be next year to defend my title," smiled Adam.
Expect even bigger, more thrilling tournaments in 2021, as Sun International goes all out to bring the very best in gaming to a new generation of passionate punters.