Latest News | 30 Sep 2021 | By Sun International
Change of Pace for Time Square guests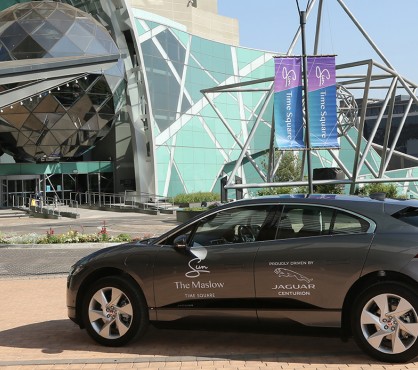 Guests at Sun International's Time Square in Menlyn will be driven in an all-electric Jaguar I-PACE as the property takes delivery of its new luxury courtesy car.
The Maslow Time Square Hotel in Pretoria has partnered with Jaguar to provide the finest in guest transport with the delivery of an all-electric Jaguar I‑PACE as its primary hotel courtesy car.
The luxury SUV, which Jaguar Land Rover Centurion, through holding entity Lazarus Motoring Company, donated to Times Square as part of its existing partnership, is valued at over R2 million and marries the best in opulence and cutting-edge technology.
Maslow Times Square General Manager Ruben Gooranah said: "We are always striving to offer the very best experiences for our guests, and the all-electric I-PACE courtesy vehicle is certainly right up there. It marries ultimate luxury and convenience with leading technology to provide a dynamic ride, with zero tailpipe emissions."
"Our guests can travel in the I-PACE knowing that they and the hotel they are staying at are each doing their bit for the environment and striving to create a better and cleaner future," said Gooranah.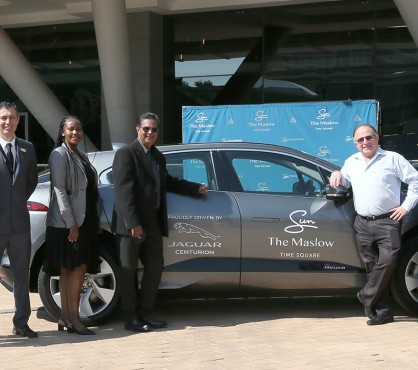 Representatives from Time Square, Jaguar Land Rover, and Lazarus Motor Company with the The Maslow Time Square's new Jaguar I-PACE luxury courtesy vehicle
Gerhard Moolman, brand manager for Jaguar Land Rover, said: "Electric cars are the future, and this partnership with Times Square is an important step towards a sustainable future for all."
Described as the "world's smartest five-seater sports car", the I-PACE delivers the very best of Jaguar with a sophisticated, all-electric powertrain that provides high performance with zero tailpipe emissions.
The luxury SUV goes from 0 to 100km/h in 4.8 seconds and can travel up to 470 kilometres before requiring a charge. But it will be the sense of occasion when Times Square guests climb in that sets the Jaguar apart.
"Guests will truly enjoy being driven and cosseted in such luxury and have true peace of mind knowing they are also contributing in a measurable way to preserving the health of our environment," Moolman added.