Latest News | 23 Sep 2022 | By Sun International
Boardwalk Mall Opens Doors to Much Fanfare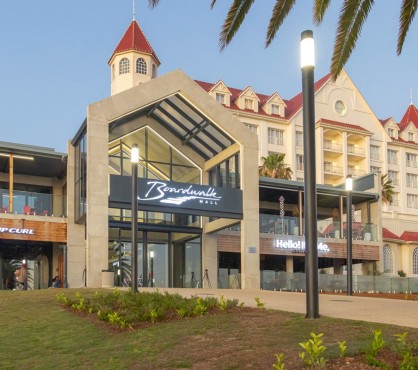 Boardwalk Mall | Photo by Sun International
The R500 million development is a welcome addition to Gqeberha's iconic Boardwalk precinct.
The final phase of the Boardwalk Mall, a 24 000m2 shopping and entertainment attraction, officially opened with a ribbon-cutting ceremony on Thursday, 22 September, in Summerstrand, Gqeberha.
The modern R500 million development features 92 retail stores, including anchor tenants; Checkers, Woolworths Food, Dis-Chem, Pick n Pay, and Clicks. All this forms a part of Gqeberha's iconic Boardwalk precinct, along with the ever-popular Boardwalk casino and hotel.
The mix of retail options including East London mainstay Friesland Milk Bar and designer label MaXhosa Africa is aimed at attracting residents and visitors to the area.
Built in partnership between property developer Flanagan & Gerard and Sun International subsidiary Emfuleni Resorts, work on Boardwalk Mall began in May 2021. The first phase of the project opened in March earlier this year, with a third of the retailers beginning operation.
The mall is now finally in full operation, with more than 1 000 public parking bays, a dedicated taxi drop-off zone and a palm-lined beach-side front entrance. It also has significant entertainment appeal with a state-of-the-art Nu Metro cineplex and a 2 500m2 multi-functional open-air Sun Park events arena.
The Park is set to host 1 700 fans on Heritage Day for a screening of the Springboks-Argentina rugby international. It offered a taste of things to come when wildlife champion and Gqeberha native Wayne Bolton completed a victory lap on his bicycle in the space. Bolton was at the end of a 2 400km cycle from Swakopmund in Namibia in the name of rhino conservation.
Sun Park will also host the Gqeberha version of the Ironman triathlon next year, among other entertainment and sports events. The Park will work in tandem with neighbouring Boardwalk ICC in providing a comprehensive events and conferences facility.
Anthony Leeming, CEO of Sun International, pointed out that the mall's journey began eight years ago well before its development commenced.
"We had a dream to redevelop the mall and were very fortunate to eventually find the right partners in Flanagan & Gerard. Sun International is invested in the Eastern Cape, committed to Gqeberha and proud to be partners in Boardwalk Mall – it is an amazing mall befitting the Friendly City." – Anthony Leeming
Eastern Cape Premier Lubabalo Oscar Mabuyane emphasised the economic significance of the investment in a city dogged by unemployment. The project has created 1 500 permanent employment opportunities, along with thousands more temporary roles.
"What we have achieved in the space is phenomenal. We are maximising employment opportunities in an area with a high unemployment rate. Jobs from investments of this nature are much-needed, considering the challenges of rising inflation and interest rates and other local issues. Boardwalk has always been one of the best-identified tourist facilities in Nelson Mandela Bay, and the development of Boardwalk Mall will now enhance its popularity," he explained, calling for the municipality to provide "after-care" for the mall now that it is complete.
There was a festival atmosphere as shoppers thronged the new mall – which Emfuleni Resorts Chairperson Bongi Siwisa dubbed "a spectacular entertainment and retail complex, everything to everybody from residents of and visitors to the Nelson Mandela Bay metro".
With face-painters, stilt-walkers, a fashion show featuring the wares of tenants, a flash mob dance show, and numerous competitions and promotions on the go at the mall and casino next door for members of the Sun MVG loyalty programme, visitors were kept busy from morning until closing time.
"This is a wonderful place. I'm so pleased with the layout of the mall and felt completely safe while shopping," said Gqeberha resident Berenice Nanc.
The mall is set to deliver a host of future promotional events as the festive season approaches.