Latest News | 28 Nov 2020 | By Sun International
The Black Pearl rises again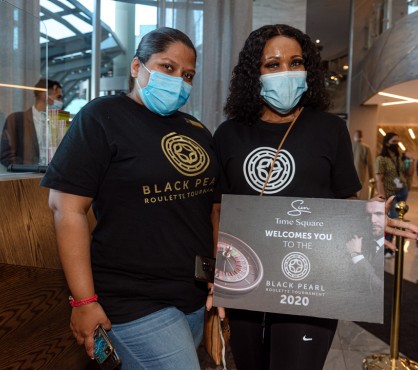 VIP hosts welcome Black Pearl Tournament finalists to Sun International's Time Square in Menlyn, Pretoria | Photo by Zuzi Seoka
Sun International's fabled national gaming tournament is back on the books, with a roulette champion set to be crowned – and pocket a cool R1 million.
Gaming is engrained in the DNA of Sun International.
Our "We Will Rock You" era was characterised by glitz, glamour, and thrill-a-minute extravaganzas in pursuit of being "the biggest, the best and the most memorable", from the casino floor to the penthouse. And while those heady days of Elton John and excess may be a thing of the past, there are developments on the Sun International horizon that would make any lover of that great gaming generation salivate.
Yes, the wheel turns – or rather, spins.
After a hiatus of a few years, Sun International's Black Pearl roulette tournament has returned and is here to stay, with the finals set to be contested today at Time Square in Pretoria, South Africa's second-largest casino. The 52 contestants and Sun MVG members were drawn from qualifying rounds at 11 Sun International properties from all over the country, but only one can claim the title and walk away with the R1 million prize.
"The Black Pearl is an iconic Sun International tournament. The qualifying rounds may have started in October, but we've been working since July to make this happen. Now the day is finally here. We really want to make a splash and set a precedent of high standards for the Black Pearl tournaments to follow – in addition to treating our VIPs and Sun MVGs like royalty!" smiled Tournament Director Patrick "Ace" Buthelezi.
Time Square GM Ruben Gooranah echoed Buthelezi's sentiments. "It's fantastic to see MVGs come from all over the country to what is the most beautiful casino in South Africa.  All the best to them – they'll need both luck and skill. It's going to be a great day, with incredible prizes on offer. Here's to having fun and celebrating the winner," he said.
Glamourous cocktail event to kick off
Entranced by sweet saxophone sounds and bubbly, the finalists traded gaming stories at the finals draw on Friday evening. There was laughter and the release of lockdown pressures in the air – and also a keen sense of anticipation for the action that lay ahead.
Finalists Dee Candasamy and Peter Von Palace Kolbatschenko, who play at Sibaya and GrandWest respectively, were pleased with the hospitality and organisation of the tournament thus far, but didn't want to reveal their cards too early, preferring to wait for the "vibrations" at the wheel and hope the "stars were aligned".
Another Diamond MVG, who has played at a number of Sun International casinos for the past 35 years, said it was fantastic feeling to be gaming at a prestigious tournament like the Black Pearl after many months of lockdown. he explained.
"It's been an excellent, well-organised tournament – my first one – and a fun, free feeling, especially after lockdown. I am an impact roulette player and stick to my strategies so I don't have any anxiety the night before the tournament. Live in the moment and know when to walk away from the table."
- Black Pearl Finalist
The Sun MVG programme is the bedrock of Sun International gaming. The Black Pearl tournament was open exclusively to members, who also enjoy a host of benefits and discounts. "We wanted to reward our members and give them some excitement after lockdown. There's been incredible interest, with more than 2 000 people wanting to register for the tournament. It's what they expect from Sun MVG, which has been going for 25 years and is in the top three such programmes in the country," said Liza Adrianzen.
And if the R2 million prize money pool wasn't enough of an incentive for the punters, Sunbethas also come to the party with an additional triple spin bonus of R500 000, along with R5 000 in bet credits for each participant. "Sunbet is integral part of the Sun International gaming offering and the only sports betting group that can offer the real-world experience of casinos," said Sunbet GM Nitesh Matai.
"We want our players take advantage of the large prizes on offer and are tremendously excited about the tournament and its old-world glitz and glam."
Matai promised that the Black Pearl would be just the start of a Sun International gaming revolution. A series of online and casino-based tournaments would be held, as Sunbet moved to offer live dealer games amid a comprehensive suite of betting options.
Finalists from Sun International casinos arrived at Time Square for the Black Pearl finale | Picture by Zuzi Seoka
The stage is set and the wheels have been greased for the most epic South African gaming event in years. Sun International gaming is back – and it's back in Black.