Entertainment | 29 Sep 2014 | By Sun International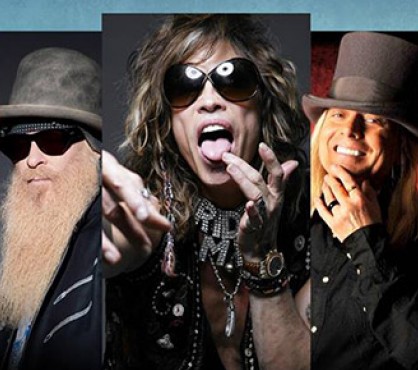 Kings of Chaos and Steven Tyler Will Rock SA Even Harder in 2014
Legendary rock supergroup, the Kings of Chaos will be returning to South Africa in 2014 for more musical mayhem. Following last year's successful gigs, the two events at Sun City and GrandWest in Cape Town will see a new line-up led by none other than rock royalty, Steven Tyler.
Formerly known as the Rock n Roll All Stars, the band was the brainchild of Guns n Roses drummer Matt Sorum, who asked a few of his close friends to form a band and tour the world playing each other's big hits.
Collectively, these artists have sold in excess of 450 million albums worldwide and together, they have penned many of the most defining rock anthems of all time. Since their reincarnation, as the Kings of Chaos, the band has played at Australia's Stone Music Fest and toured South Africa, the United States and Central America.
To date, they have only recorded and released one song, "Never Before," on the Deep Purple tribute, Re-Machined: A Tribute to Deep Purple's Machine Head. This means that if you want to experience more than seven Rock n Roll legends collaborating on some of the greatest songs ever written, you have to see them live.
This time around, the stellar line-up includes legendary Aerosmith frontman and former American Idol judge Steven Tyler, who joins Guns n Roses musicians Matt Sorum, Gilby Clarke and Duff McKagan.
Sharing the stage with them are guitarist Billy Gibbons from ZZ Top, lead singer and rhythm guitarist Robin Zander from Cheap Trick and lead guitarist Nuno Bettencourt from Extreme.
The band always plays a set-list of songs from the bands of the members, and generally another few cover songs. Most prominent throughout are the Guns n Roses classics, "Sweet Child o' Mine," "Paradise City," "Welcome To The Jungle," Def Leppard's "Pour Some Sugar On Me" and Deep Purple's "Smoke on the Water," and "Highway Star."
Don't miss this once-in-a-lifetime opportunity to experience these iconic artists performing in the intimacy and comfort of two of South Africa's very best indoor arenas. The collaborative group will perform at Sun City's Super Bowl on 29 November, before heading to GrandWest's Grand Arena in Cape Town on Wednesday, 3 December for the final performance of their South African tour.
Situated in Sun City's Entertainment Centre, the Sun City Superbowl is regarded as one of the finest concert venues in South Africa. And with accommodation at Sun City within easy reach, there's no reason not to make a raucous head-banging night of it.
The Grand Arena at GrandWest Casino (South Africa's largest entertainment destination of its kind) is no stranger to world-class acts - artists such as Kylie Minogue and Janet Jackson have previously rocked the venue. This year, on the 3rd December, the Grand Arena in Cape Town will host the Kings of Chaos in what is slated to be a two-hour Rock 'n Roll Masterclass.
Tickets on sale at Computicket.
Sun City Superbowl - 29 November 2014: tickets cost between R795 and R1450
NEWSFLASH: KINGS OF CHAOS HAVE ADDED AN EXTRA SHOW TO THEIR SUN CITY LINE-UP ON THE 30TH OF NOVEMBER.
GrandWest - 3 December 2014: expect to pay between R950 and R1450 for this Cape Town event