Entertainment | 21 Sep 2022 | By Sun International
Glamorous new look for Sun City's exclusive Salon Privé casino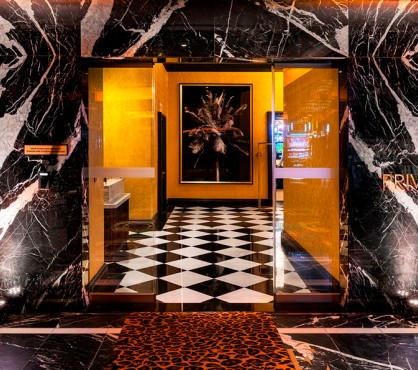 Salon Privé Entrance | Photo by Sun International
Salon Privé, the exclusive gaming area for top-tier members of Sun International's loyalty programme, Sun MVG, gets a new look.
Sun City Casino, a popular gaming destination for over 40 years, has given its Salon Privé, the exclusive gaming area for top-tier members of Sun International's loyalty programme Sun MVG, a glamourous new look.
Brett Hoppé, General Manager for Sun City Resort, said the brief to David Muirhead & Associates Design Studio was to create a Salon Privé that was not only inspiring and uplifting but glamorous.
The 641m² space, with 80 Slot machines and eight Tables, boasts a more "practical and comfortable feel, with an international allure of glamour and sense of luxury," Hoppé said.
David Muirhead, who led the design team, said the new Privé exudes intrigue with an imposing, and impressive entrance that sets the tone for what awaits visitors on the inside. 
"The design is bold, defined and glamourous, appealing to all the senses." – David Muirhead
The entrance is flanked with onyx marble-clad walls, backlit and detailed with black marble and black glass. Bespoke crystal chandeliers hang from charcoal and gold-coloured ceilings, setting the stage for the glamour that awaits guests.
The walls are adorned in shimmering gold Versace wallpaper with contemporary and edgy artwork, including a four-meter piece by local artist Sue Martin that celebrates the raw beauty of the trees surrounding Sun City.
"The black and ivory checkerboard tiles invite one to strike a pose – there is no mistake about this sense of arrival; this is an entrance of stylish symmetry which feels like a luxurious boutique hotel lobby," Muirhead added.
On entry, the luxurious, bespoke leopard print carpeting pays homage to a proud African essence that is the common thread linking all design elements. "Here, the wallpaper is black and gold palms by Cole and Son, which captures the essence of uber chic African style, echoing a sense of international luxury."
The main gaming floor is a harmonious space cleverly divided by gold metal screens flanking the black and white marble stairs. The upper level houses the Tables area, a private room, a boutique bar, and a comfortable seating area. "The Red Room, which is home to the Slot machines, is an alluring discovery to the right of the main gaming area, with wood panelling that we painted red, imparting a sense of intimacy, privacy and good luck."
In keeping with the luxurious new surroundings, the Salon Privé offers an enhanced VIP experience for Sun MVG members. Even the smallest detail is taken care of to ensure that guests enjoy a seamless, personalised experience with the highest level of service. Players can also look forward to a greater variety in the games on offer in multiple denominations starting from R1.
If you enjoy visiting, staying, playing at Sun International casinos, or placing a bet at SunBet.co.za, then you deserve to get the most out of us. Join our loyalty programme, Sun MVG, and enjoy great rewards and benefits. A world of exciting experiences awaits!