Entertainment | 04 Nov 2014 | By Sun International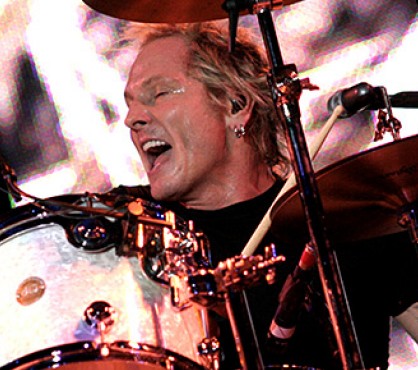 The Kings of Chaos will soon be landing on our shores and despite their name; they won't be spreading a royal brand of anarchy... Instead, the Kings of Chaos in South Africa will be entertaining the lucky revellers who attend their Sun City and GrandWest performances with the most loved rock tunes.
P.S. There's still time to get in on the action! The Kings of Chaos will be performing at Sun City on Saturday 29 and Sunday 30 November and Wednesday 3 December at GrandWest.
From Joburg to Cape Town, the Kings of Chaos will be celebrating classic rock and giving the crowds a chance to witness some of rock's legends all on one (chaotic) stage. To prepare for what is sure to be a wild night, we spoke to band member and uncontested rock royalty Matt Sorum:
Q: The band was originally known as Rock 'N' Roll Allstars. What's the story behind the change and the current name Kings of Chaos?
A: That was a fun tour and I wanted to turn it in to a real thing that could continue so I then went and trademarked the name and formed the basic rhythm section.
Q: One of the many reasons why Kings of Chaos is so popular is that it a nostalgic celebration of rock music that gives fans a rare chance to enjoy their favourite classic rock songs live. I mean, who doesn't what to hear "Welcome to the Jungle" live? What is your favourite song to perform and why?
A: I love playing with my heroes. I'm very excited about playing the Aerosmith, ZZ Top and Cheap Trick material; this is a blast for all of us to give the songs a different twist.
Q: They say that lightning doesn't strike twice and yet all of the band members have experienced incredible success in the music industry in their previous bands and in the Kings of Chaos, what do you attribute this success to?
A: Great songs and legacies of the members of their perspective bands brought together in a real celebration of that with KoC (Kings of Chaos).
Q: The band is composed of a revolving line-up of rock royalty; do you ever get competitive with each other?
A: Never, this is one big party for us on stage, we all have known each other for years and like each other - that's the fun behind this.
Q: Tell us the truth, who is your favourite band mate and why?
A: Duff McKagan has always been there with me. The two of us together makes for a strong rhythm section which is very important in any great rock band.
Q: If you could only listen to one album for the rest of your life what would it be?
A: Wow, I love an album called Avalon by Roxy Music.
Q: Before your debut performance in South Africa, what were your thoughts on the country? Has your opinion changed since visiting the country?
A: I'm a huge animal guy so that was a major thing coming here to see what South Africa has to offer as well as its people and scenery .
Q: With thousands of screaming fans waiting for you, what are you thinking when you walk on stage?
A: It's going to be explosive! That is always the coolest part of the night, when the lights go down and the crowd roars.
Q: Rock stars are famed for their wild lives, make us jealous – tell us about one of the wildest moments in your career?
A: There are so many stories. From Rock in Rio my first show with Guns N' Roses at 150k stadium and being held hostage in the hotel by thousands of fans outside the hotel. To the Freddie Mercury tribute concert at Wembley Stadium with Guns N' Roses hanging backstage with Bowie, Robert Plant and Elizabeth Taylor. My life has been a surreal dream that hasn't stopped yet. Being onstage with KoC (Kings of Chaos) is my childhood fantasy come true.
Sorry to interrupt you practising your air guitar and humming to the tune of Def Leppard's "Pour Some Sugar on Me"... Just a friendly reminder to secure your Sun City accommodation (there's a special on right now!!) and your accommodation in Cape Town for the Kings of Chaos in South Africa. FOMO is real and this is a severe warning of anticipated FOMO if you don't witness the rock event of the year.
For Sun City accommodation bookings, email: scenq@suninternational.com.
For GrandWest accommodation bookings, email: grandwest@suninternational.com.